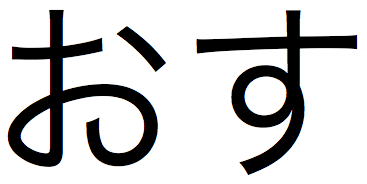 I'm in The Japan Times this week: "Jiko-PR gives job seekers a rare chance to brag in Japanese."
Ostensibly I introduce some 自己PR verbiage, but I really just wanted a chance to talk about エール, which is one of my favorite Japanese words because it feels kind of funny/awkward as a Japanese version of "yell." (Although not so strange when you think of it as "ale.")
(This would also make an excellent entry into my series of inequalities: エール ≠ yell, not really.)
Apparently the Japanese native checker at the JT wasn't sure about my description of the エール, which is a pep rally-type cheer for a team/individual, and after sleuthing on YouTube a bit, I'm starting to realize that エール are different everywhere. I also realized I left out an important element of the cheer at the school where I worked.
The word I left out is おす. Kotobank has a great definition:
道などで出会った時の挨拶(あいさつ)の語。男子学生など若い男性が,仲間内で用いる。おっす。
When I was at the propeller company (search: propeller), I remember all of the factory guys saying おす/おっす in the morning (when I 出会ったd them on the 道, clearly) and me having no idea what they were talking about. I didn't have the confidence to imitate them, so I just went with the standard おはようございます and vaguely thought that maybe おはようございます = おはようございます? Which was exactly right, if this dictionary is to be trusted: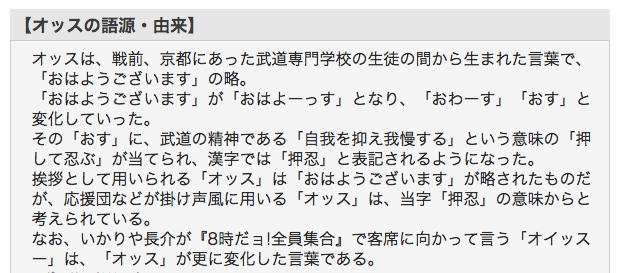 It probably would have been fine to use おす with the factory guys, but not with my coworkers in the design section, who didn't have to sweat nearly as much as those guys.
The おす in the エール also acted as a greeting of sorts. The エール went like this:
1. おす! (Deliverer bows to receiver.)
2. これから_____(team name, individual surnameの/のために)エールを送る!
3. フレー(right arm extended diagonally into air)! (Audience claps three times.) フレー (left arm extended diagonally into air)! (Audience claps three times.)
4. __ __ __ / __ __ __ __ (three- or four-syllable identifier: school name, individual surname/given name, team name; arms bent from elbow in multiple directions along with syllable)!
5. (Deliverer lowers arms to middle of body and then raises them slowly as audience yells, rising in volume, kind of generally in anticipation of the core part of エール)!
6. ウィンウィン__ __ __ / __ __ __ __! (repeated three times by all)
7. (Primal scream with lunge and arm extended forward)!
8. おす! (Deliverer bows to receiver.)
The おす was bread for the エール sandwich, as it were.
So I'm curious about what kind of エール you have witnessed. What were the procedures? When were they used?
In addition to pep rallies, エール were given for departing teachers in the privacy of a 送別会. Generally a fellow teacher in same subject/department was called upon to deliver the cheer. It was a lot of fun to participate by chanting ウィンウィン along with the deliverer, and I secretly always wanted to have the chance to try one but was also relieved I never had to.
Alas, such is the life of an extroverted introvert. Japan's codified rituals, including エール, can make this easier for some of us, I believe, because they provide more clearly coded social actions.