How to Japanese: Underrated Japan Vol. 3 – Tonkatsu from Daniel Morales on Vimeo.
00:26 Clip from Pulp Fiction. What a movie.
00:35 The music is "Los Dias Sin Dias" from Estradasphere, one of my favorite bands. I'd wanted to do a video about tonkatsu for a while but didn't know how to structure it until I heard this song on shuffle one day. The idea came to me instantly – the mood so perfectly captures that strung out, hungover feeling.
This is my room. You can see my pole. That's where I hang my futon when I'm not sleeping on it.
This is probably my favorite of all the videos I've made. Maybe number two with the onsen video being number one.
Other things of note: The Meters self-titled first album on my desk (best funk album ever), Bob Dylan's Greatest Hits Vol. II (sadly I don't have a record player, but they are fun albums to look at), my UV-blocking curtains I brought with me from Fukushima.
00:42 My futon in action. Things of note: Tempur-Pedic pillows, my mini Mapple, bag for my yoga mat (which lives under my futon), camera case for my Canon HV20.
00:50 Full shot of my room. It's a mess. It's a little cleaner these days thanks to a massive purge I went through when I thought I might have to move apartments. I still have too much stuff.
Things of note: gray bags from Tanakaya in the foreground (full of beer), my low-ass chair I bought from the Shinagawa Ward recycle shop (it broke about a month after I bought it and is now stuck in the lowest position), art by Kestutis of Lithuania on the wall.
00:59 My desk. Did you notice what's on my desktop screen? PAIN. I thought that was funny. Things of note: iPod, DS case, hard drive I use for all my video footage, earplugs, calendar of my yoga lessons, my air-con remote control.
01:09 My kitchen. I'm a huge fan of taking pictures or video very close to small objects to make them look epic. I think it started when I was traveling in South East Asia and started taking close-ups of beer bottles. I got this amazing shot of my friend Faye: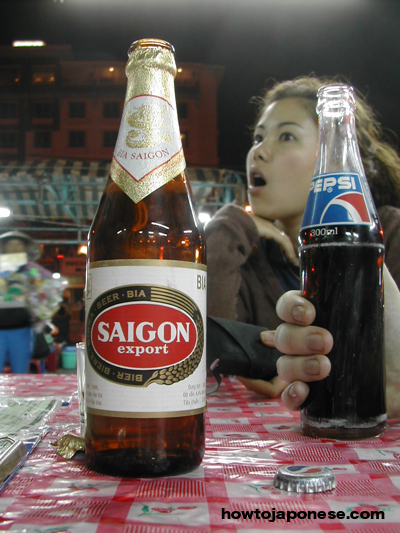 I've been looking for an excuse to do something with that picture for years.
01:18 I don't know why I bought negi-toro. I rarely eat it in any form, onigiri or don. They must have been out of mentaiko or ume – those are the two I always buy.
01:27 Kaiten-zushi at Yokohama Station. I really wanted this shot to be of the dishes going by on the conveyor belt, but I couldn't hold the camera still enough, and I don't have a tripod. And in all honesty, I didn't want to be that weird foreigner with a giant tripod in the sushi restaurant. I was already that weird foreigner with a mini-tripod taking video of sushi, and I think that's about as weird as I'm willing to get.
01:42 Aji no Tokeidai ramen in Shibuya. I had this bowl right before a big beer session in Shimokitazawa during Kura Kura's January nomihodai offering. Great ramen. Perfect foundation for beers. I really was hungover the next day, and that was the day I went to Tonki in Meguro.
02:00 Tonki Tonkatsu. The ロース variation. I hate the way the fried batter falls off so easily. That's my main criticism of an otherwise exquisite place to eat tonkatsu.
02:06 Katsuretsu-an in Yokohama. Very thin katsu, but still tasty. The Katsuretsu-an Teishoku is ヒレ, but I think this is one of the few stores where I prefer the ロース.
02:15 Good God that's a massive piece o pig. It's the kurobuta from Maisen. Tasty, but also 3000 yen a plate. The first time I went, the menu was a little confusing (Maisen's big downfall is that they offer too many variations), and I thought the kurobuta was the only katsu they had.
02:24 Droolz.
This clearly show's Tonki's flaws – the pork shrinks within the batter or gets somehow gets dislodged during the cutting process. It's worth mentioning that they cut the katsu lengthwise, which I guess makes the pieces easier to handle. I prefer just widthwise cuts, although there's a place in my neighborhood that gives you three small diamond-shaped doubloons of katsu for the ヒレ. I always thought that was neat. Tonki still has the best service of any tonkatsu place I've every visited. Hard to leave unsatisfied.
02:35 Gnompf, carbs, gnompf.
02:38 I liked the butajiru at Tonki but still prefer red miso with katsu. I guess that's the second mark against Tonki.
02:41 I can just imagine what went on in the kitchen: "Yo, let's put another leaf on top." "What for?" "I dunno. It just looks nice." "True." That dude got his bonus that year. Brilliant.
02:46 Karashi really does make the katsu. I only respect restaurants where the karashi is sinus-burningly powerful. Tonki's is strong stuff, although they only provide you with a small amount. Maisen is self-service.
02:54 You can see from the Tonki clock that it's right around 4:40pm. They opened at 4pm. Yep, it fills up quickly.
02:58 I was third or fourth in line, right behind this guy. He did things right – brought a newspaper, ordered a beer (which comes with peanuts). Respect. This shot also gives a great look at the pristine countertops. So smooth and clean. Bonus points.
03:07 Don't be fooled. Maisen has tons of seating. It never takes all that long to get inside. The atmosphere is nothing compared to Tonki, though.
03:13 Love the Katsuretsu-an atmosphere, especially the lantern outside. During the indoor shot, the lady carrying the katsu realizes that I'm filming about halfway across the screen and then tries to skoot out of the way. I thought that was cute.
03:18 They also have very nice countertops. The information in the subtitles I found on Japanese Wikipedia quoting some book, but it has since disappeared. There was an article in the Wall Street Journal that lists a different place as the tonkatsu origin, but I haven't had a chance to go yet. The article is really nice, but I'm not sure why Maisen and Tonki get excluded. I'm also confused why a tonkatsu restaurant would need a wine list. Call me a purist, but beer is the only beverage that goes with tonkatsu.
Original post here.