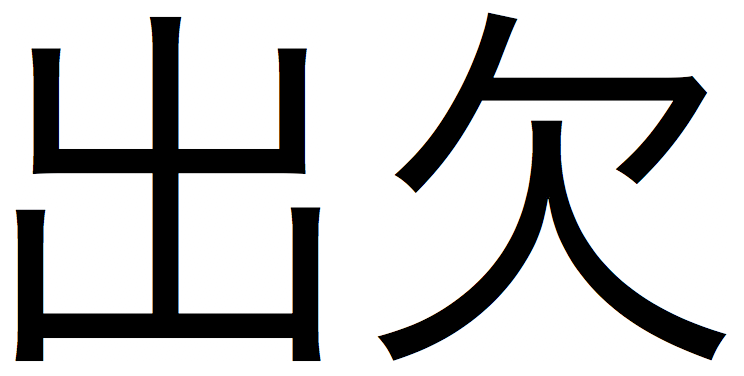 I was in the Japan Times this week with a tutorial on how to teach yourself Japanese that you've never learned before (a task that perhaps sounds easy until you think about it for a second…): "OK Google, auto-fill the gaps in my Japanese."
I changed jobs recently, and I've been using more Japanese in my day-to-day thanks to this (somewhat ironically, given the last place where I worked…I'll leave you to Google this).
I've been writing a lot of emails, and I'm often forced to fend for myself as the only Japanese speaker in the office. I've gotten fairly adept at using Google to piece together different fragments into what are (hopefully) near-native sentences.
One example that I didn't have space for in the article was the excellent kanji compound 出欠 (shukketsu, presence or absence), which is a compound made up of opposite words.
I located this compound by searching for 参加するかどうか (sanka suru ka dō ka, be able to attend or not) plus 敬語 (keigo, polite speech). I was eventually able to track down a useful sentence with this phrase after some Google sleuthing and then isolating the phrase "出欠のご返事を" (shukketsu no gohenji o, a reply with your RSVP).
That led me to this sentence, which I used in an email: 出欠のご返事をいただけると幸いです (Shukketsu no gohenji o itadakeru to saiwai desu, We would appreciate it if you could reply with your attendance).
Pretty useful technique. This is the website I found, by the way. It has some excellent examples that are very useful in business emails.
I noticed on Twitter that Tomo brought up some other interesting Google autofill examples, including a way to explore Japanese curiosities about foreigners. The thread is worth checking out.
Type "Americans reason" on Japanese Google and you'll get:
– get fat
– obesity
– love zombies (shows)
– friendly pic.twitter.com/vlF0NNIhgp

— Tomo (@tomoakiyama) April 18, 2018