What's that book he's got there…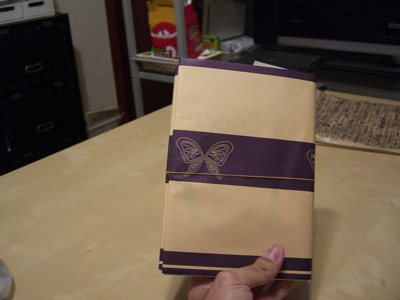 Hmm…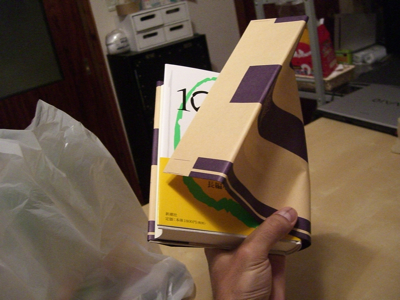 Ohh…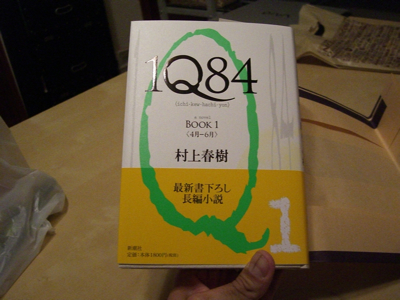 Yes, the street date has been broken for 1Q84. (Do we call it "one kew eight four" or "q-teen eighty four" in English?) I saw a tweet about a possible early release and decided to drop by the closest bookstore after work. Sure enough, there were copies of Book 1 sitting next to the other new hardbacks. They didn't have Book 2, which is probably fine since I won't be needing it for another month or so.
Immediate first impressions:
– It was expensive. 1800 yen, or just about $18. Do hardcovers in the US cost $36?
– It's massive. 554 pages to be exact. I believe Book 2 puts the combined length at over 1000 pages.
– It probably features chapters with alternating stories. I've really only read through the index, but this is made clear by some kanji after the chapter numbers. Can't confirm this because I haven't read anything yet. Also haven't looked up the kanji.
– The chapter titles are Pynchon/Fariña-esque. Also similar to Wind-up Bird. They're more phrase-like than noun-like. At one point they also refer to "readers" (読者), although this could very well be readers within the book and not me and you.
– It takes place between April and June. The months (4月ー6月) are on the cover. I believe Book 2 has a different set of months.
– It looks more dense than his past books. Big blocky paragraphs. Not so much dialogue and short phrasing as in old works.
– It smells like a book.
I read the first sentence already. It's going to be hard for me to stop myself from reading the rest until Friday, but that's what I'll do. After I wake up and have breakfast, I'll dive right in. See you Friday morning.