Er, I mean year. 2010 is almost a week old now, but How to Japonese will be taking another week of vacation before resuming new posts. I'm heading back to the U.S. tomorrow for a quick trip. Rest assured that there is awesome content on the way. (I just need a chance to finish editing/writing it.)
For now, enjoy this picture of one of a few dozen pints of Schlenkerla Helles poured in Japan: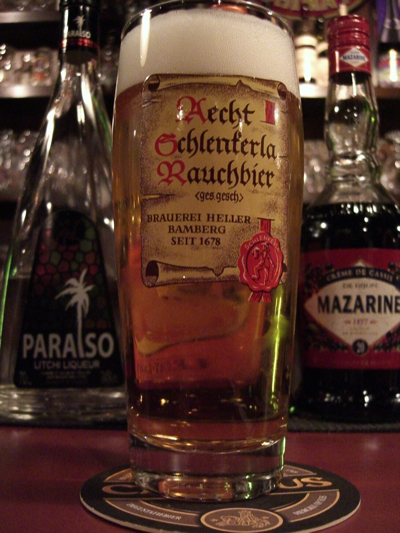 Jha in Kanda opened a keg of the beer on the 4th and 5th. Schlenkerla is legendary for it's smokey rauchbier, generally a dark beer. They brew the Helles in the same kettles, but without the smoked malt, so it only has a trace of the flavor. (I've had the bottle version too and swear it tastes smokier.) It's still crisp and infinitely drinkable – one of the beers perfected by hundreds of years of German beer brilliance. I was fortunate to catch a pint today after work. If you hurry you might still be able to get one. They still have the Urbock on tap at Jha and Coopers (it's sister bar) in Shimbashi, with far more reserves than the Helles. It packs a punch far mightier than its 6.5% abv might suggest. You have been warned.