Subway in Japan is true to the spirit of the original American store. While they don't have the "melt" sandwiches or the "Five-dollar Footlong" (footlongs range from 600 yen to 810 yen), the core group of offerings (Smoked Turkey, Ham, Roast Beef, Veggie, Subway Club, Egg, Tuna) is the same, and they have a few regular sandwiches special to Japan (Tandoori Chicken, Shrimp Avocado). Besides these two, there are the seasonal sandwiches that get changed every couple months or so. Since I moved to Tokyo in 2008 (and began to eat semi-regularly at Subway again) these have included Chili Beans, Avocado Turkey, and the heavenly Double Pastrami.
The current seasonal sub offerings are the ベジバーグ (bejibaagu, an approximation of "veggie burger") and the ベジドッグ (bejidoggu, "veggie dog"). I was pleasantly surprised to see these available: Japan is not a very vegetarian-friendly country, but it is slowly starting to change and this is one of the signs. Clearly these are being advertised to healthy eaters: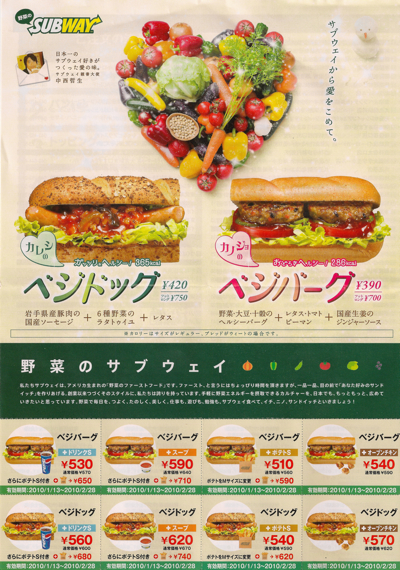 I tried the ベジバーグ a few times and was moderately satisfied. For whatever reason, they won't add all the veggies – just tomato, lettuce and bell peppers in addition to the patty. But then they douse it with special ginger sauce. It's decent (and makes me feel less guilty for eating so much tonkatsu). They give out a flier with coupons too, and as I was perusing it I noticed something funny about the ベジドッグ: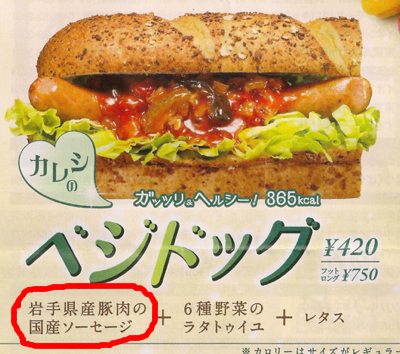 ベジドッグ is Iwate Prefecture pork! I was stunned. If you read their equation carefully, the "ベジ" must refer to the six-vegetable ratatouille (ラタトゥイユ) that they use as a topping. A scoop of ratatouille does not a veggie dog make. Japan clearly has 肉 issues to work out before it fully embraces vegetarianism.