At some point last year a friend sent me the link to 365 Days…365 Beers, a beer blog run by Drew, a guy who drinks great beer, takes great photos, and makes great websites. (And has a great mustache.) I sent him a bunch of beer from Japan to taste, and in exchange he sent me some bottles from his collection. They've been sitting in my refrigerator since April, awaiting my repatriation. I got in on Monday and promptly cracked one open. I'll be reviewing them once a week over the next month.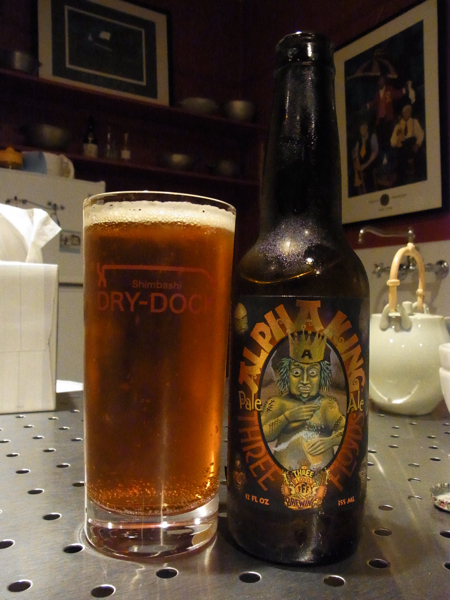 Style: American Pale Ale
ABV: 6.00%
Grade: B+
I spent this past weekend drinking almost exclusively Harpoon IPA, so I hope my pallete isn't too skewed. Here goes nothing…
Of all the beers Drew sent, I was most excited to try this one. Three Floyds is notoriously hard to get a hold of and generally gets great reviews. It's expensive in Japan and occasionally available at Craftheads and Sal's, bottled and on tap. It's completely unavailable in New Orleans and most of the U.S. outside of Indiana. I had the Gumballhead American pale wheat beer and Dreadnaught IPA at Sal's on tap as well as a bottle of Popskull Imperial Brown Ale (a Dogfish Head collaboration) from a bottle at Craftheads. Dreadnaught was good, Popskull was great, and Gumballhead was superlative. I was excited to see the Three Floyds take on pale ale.
Poured the 12 oz bottle into my Dry Dock glass. The aroma is heavy on caramel, and it's obvious from the copper color that this pushes the limits of the pale ale category toward amber. The hops are well-balanced and not overstated at all; I'm not getting much in terms of aroma (maybe it's been toned down in the aging process), but there is a pleasant lingering bitterness – definitely worthy of "Alpha King" status. (Alpha acids are the acids in hops that create the bitterness we, or at least I, love.) The malt presence is very heavy. It wouldn't have surprised me if this beer was called "Arrogant Bastard Lite," although it tastes much drier than a Stone beer.
I gave this beer a B+ and consider it just as good as the Dreadnaught. I would like to try them again side by side – I don't have any distinct memories of the Dreadnaught other than that it was good but not great.
Check out Drew's reviews of Japanese beers:
Yona Yona Ao-oni IPA
Takashi Imperial Stout
Sapporo Royce Chocolat Brewery
Fujizakura St Valentine's Chocolate Wheat
Baird Beer Dark Sky Imperial Stout