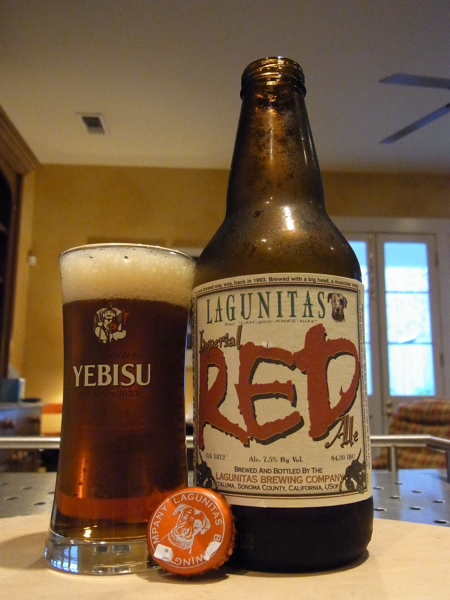 Style: Imperial Red Ale
ABV: 7.5%
Grade: A-
Poured this into my Yebisu Japanese-size beer glasses. They are designed so that when drinking with friends or coworkers you will have plenty of opportunities to pour for them. Japanese drinking parties always begin and end very orderly, but the in between is a chaos of changing seats as people walk around with beer bottles, looking to pour for people as a sign of respect. The glasses also work perfectly as sippers for stronger beers.
This beer is a nice amber color, and there is a lot of caramel malt in the nose, which overpowers the hops. The hops are definitely present in the beer, though – the bittering hops at the beginning of the taste rather than the aroma hops. The malt flavors are a rollercoaster. Very nice beer. Similar to the Stone 13th Anniversary beer, but I prefer the Lagunitas Imperial Red because it's not as sweet as the Stone – it was almost nauseatingly malty when I had it on tap at Craftheads in Shibuya. (Actually, that was the beer that ended the "Stone Winter Storm" for me – I switched to the Fujizakura Rauch for the rest of the evening.) The Stone is 9.5%, which I think is a bit excessive. Yes, I realize it's an "Imperial" beer, but I think 7 or 8% is plenty to get that point across.
I believe this was my first Lagunitas beer. Looking forward to more in the future, and at least one in the near future.
Check out Drew's reviews of Japanese beers:
Yona Yona Ao-oni IPA
Takashi Imperial Stout
Sapporo Royce Chocolat Brewery
Fujizakura St Valentine's Chocolate Wheat
Baird Beer Dark Sky Imperial Stout