Tuesday is the weekly day off at Project Tohoku. This is to enable local volunteers to join the group on their weekends off. I wish I could say I slept in, but I actually woke up at 4am sharp. I was back to sleep at 5 after watching a little TV.
I did laundry and relaxed around the base in the morning, and in the afternoon a bunch of us went for lunch at a local restaurant and then took a walk down to the water. The bus that picks us up had driven by the area before, but it was different on foot – starker and more barren. There was a building with a sign marking the height of the water from the 1960 Chile earthquake tsunami at 5.6 meters. It also read: 災害は忘れたころにやってくる – disaster strikes when it's been forgotten.
Right around the point where we felt we had walked a good ways and were about to turn back, we took a left and were able to access the water. We could see the concrete plant across the bay, ships docked, warehouses along the bay that had been mangled, and the huge swath of empty land beyond the immediate coast that the tsunami destroyed.
On our way back we walked on a road parallel to the one we walked down on, and we walked up a small hill that had been designated as an evacuation area. It was one block from the main road along the bay, so only three or so blocks off the water, but everything on the top of the hill was fine.
After that we walked home, stopping by a grocery store on the way. In total we walked something close to 10K, maybe even more, so I was too tired to join a group driving to a hot springs and going out for dinner. I walked over to a place called the Ys Center, which is right next door to the Fukushi no Sato Center. It seems to be a community/sports center. There's a heated pool and a bath, and we can use the bath. After a scrub and some dinner, I'm ready for bed but need to kill two hours first. Back to work tomorrow.
Updates – pictures:
Pictures from the walk. They don't really capture the scale of the destruction: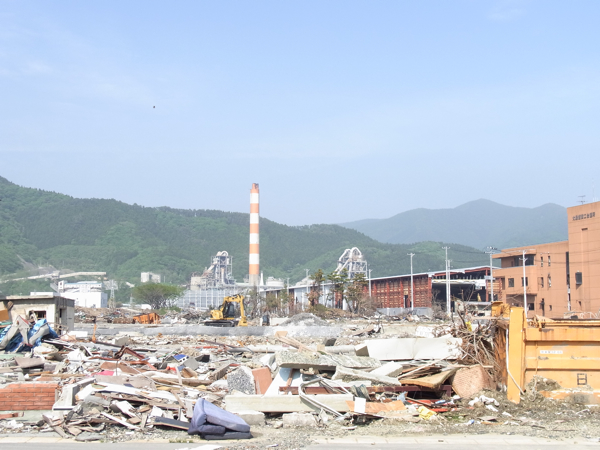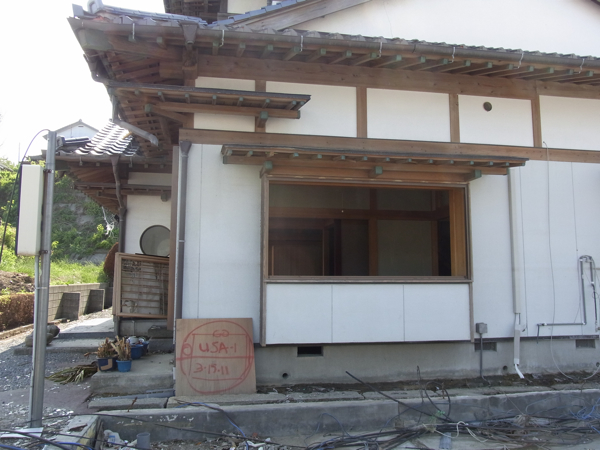 This building had the sign commemorating the 1960 tsunami: