Today I was back at the Ueno's house with Keith and Vince finishing up the gutting job. Mr. Ueno was there when we arrived, but he left quickly after. We found a tray of breakfast cakes and onigiri rice balls to eat during our break along with a box of drinks. They are a really sweet, generous couple.
There were only four of us today, and we slightly underestimated the time it would take us to finish the job. We expected to finish by 1pm, but we took all day and will go back tomorrow for a few hours. Keith and Vince spent the morning demolishing the bath area, which was difficult since the walls were lined with steel and then covered with concrete inlaid with tile.
Shinpei, a Japanese guy from Ibaraki, and I worked on taking out the subflooring in one room and then "mudding" another room. Mudding is basically shoveling the top two inches of soil that has accumulated under the house. It makes the rooms look neat, and it also removes the last of any debris that washed up underneath the house during the tsunami.
While we were mudding, we also helped Keith and Vince remove their trail of destruction. They were throwing sheets of metal, blocks of concrete from the bathroom floors and walls, and flooring from the last of the floor that we had to take up. We basically needed one more person with us during the day to run the wheelbarrow back and forth and we probably would have finished in time.
One new part of today was the construction workers outside of the house. There was a huge pile of debris immediately next to the Ueno's house. It was a pile for the whole neighborhood, and we had been dumping on it over the past few days, but today there was a construction crew that was using a mini-crane to lift the debris onto trucks which took it away to a different location. The guy running the crane came up to talk with me at several points, helping us direct our trash to the right location. He and his team made pretty quick work of the pile – it was gone by the end of the day. He was also a little curious about us volunteers; he had a curious smile on his face the whole day, and we had a short conversation as he was heading off after finishing.
Part of the reason we were able to have this conversation was because our bus was late. This also enabled us to talk with Mrs. Ueno who came briefly around lunch and then returned later in the afternoon with her older sister-in-law. We all talked, and I translated for Keith and Vince. Neighbors who walked or biked by stopped to say thank you. The sister-in-law also gave us a big bag of canned coffee and eighteen tai-yaki (fish-shaped, red-bean filled Japanese cakes) to share with everyone. It felt kind of like a goodbye, and it probably should have been, but we'll be back tomorrow to put the finishing touches on the job. Then we'll head back to the canals for more shoveling.
Updates – pictures:
Vince and Keith demolishing the bathroom walls – steel-lined concrete: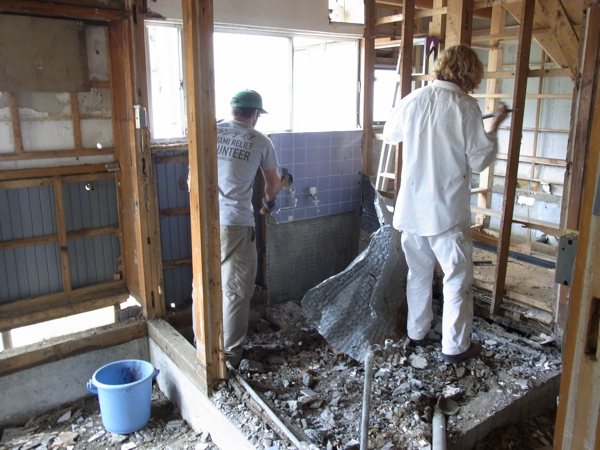 The gutted house with just a path through the middle remaining: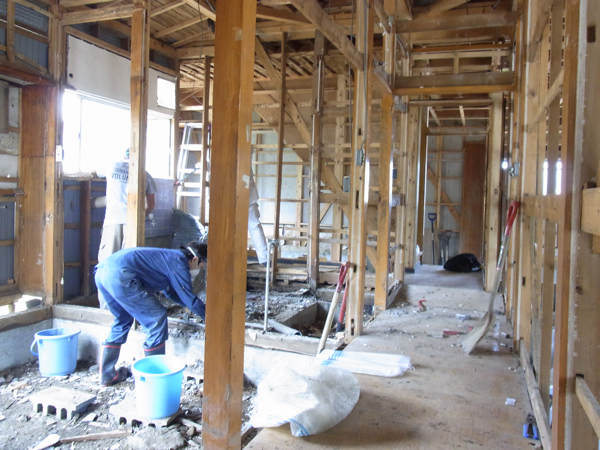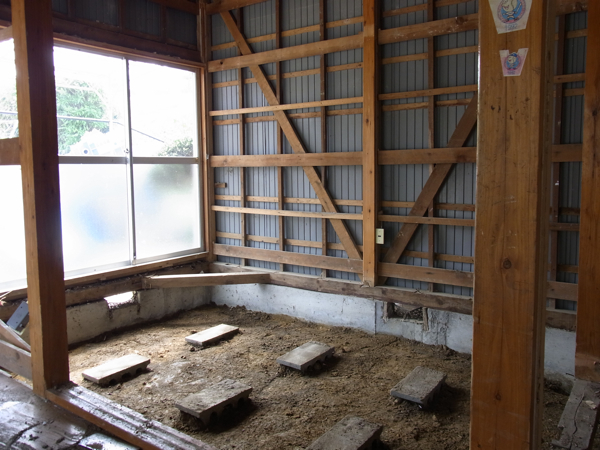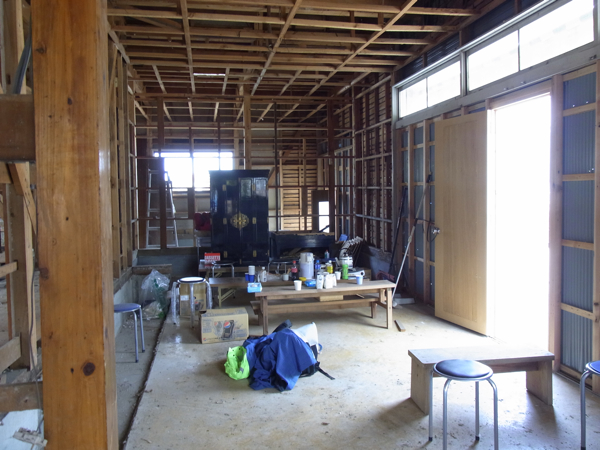 From L-R: Vince, Keith, sister-in-law of the owners, her son Take-chan, Mrs. Ueno, myself.