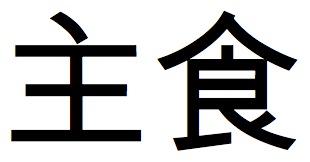 Over the 4th of July weekend, I went back to the small town in Fukushima where I spent three years teaching English and "coordinating international relations." I had a nomikai with the students from the English conversation class I taught at the Town Hall, and then a few of us lit fireworks in the parking lot of the town offices. It was a nice little trip, great to get out of the city and just relax the whole weekend.
I ran into one of the great Japanese compounds at the dinner – 主食 (しゅしょく). We started with a toast and then snacked on sashimi, bits of fried food, edamame and a bunch of other things. El vino did flow – beer and 麦焼酎水割り, mostly. Towards the end, I could kind of tell it was time to wrap things up, but then one of the ladies said, だめだ。何か主食とらないと。 We couldn't leave without having a 主食 – a staple food. The classic Japanese 主食 is rice, but the restaurant had no rice dishes, so we settled for ramen. Apparently noodles count as a staple food. The great illusion with 主食 is that rice is the only one that exists in the world. This proves otherwise.
Because rice isn't eaten as much abroad, often Japanese will think that there are no 主食 in the US. I always point to Mexican cuisine and the use of corn in tortillas, pupusas, and tamales. Corn and beans are all staple foods all over the world. Don't fall for the 主食 fallacy.
I'm heading back to my town to help carry the mikoshi in a festival next weekend. Should be fun.