I was at 有隣堂 today and noticed that they have started taking reservations for 1Q84 Book 3. The signs say that they expect it to sell out immediately. Here's what my reservation slip looks like: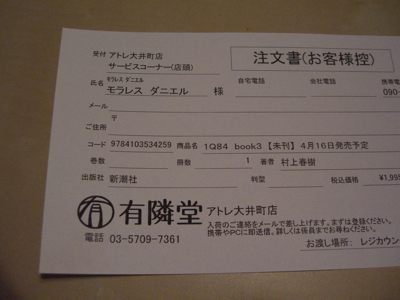 The price is 1995 yen, almost 200 yen more expensive than Book 1 and 2, which makes me wonder if, Egads!, this part is longer than the first two. Nothing would surprise me at this point.
No payment is necessary up front, so get to your closest 本屋 and 予約 a copy for yourself. The book will be released on April 16.