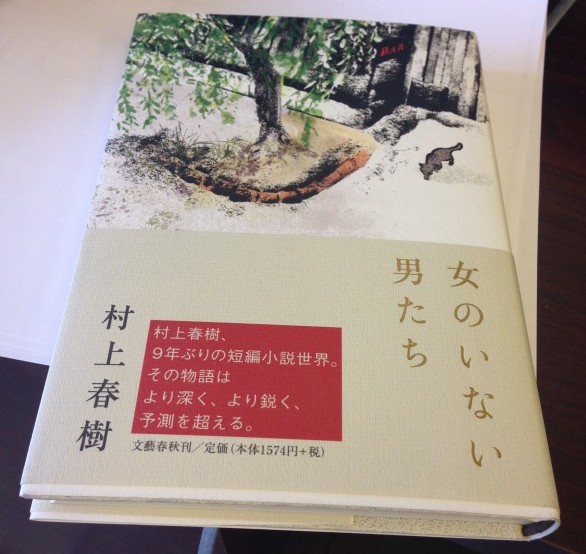 I got the new Murakami short story collection Men Without Women in the mail today! Here are my initial impressions:
– It has a great cover. The art style is simple and almost like calligraphy in effect. I especially like the inclusion of a cat, which seems typically Murakami. The bar is also a nice touch, too, but the messy lawn under the tree gives the image its true power: it feels real and messy, very natural.
– It has a suitably cheesy sales pitch on the cover: "A world of Murakami short stories for the first time in 9 years. The stories are deeper, more poignant, and beyond expectation."
– Here is the index:
Forward – 8 pages
"Drive My Car" – 52 pages
"Yesterday" – 52 pages
"Independent Bodies" – 52 pages
"Scheherazade" – 42 pages
"Kino" – 52 pages
"Men Without Women"- 22 pages
Murakami was impressively consistent with the length of stories, and I realize now (looking at the publishing history at the back of the book) that this is likely because all the stories were published in Bungeishunju. I'm kind of glad I didn't know this earlier (and therefore didn't blow cash on individual issues other than the very first one). Only the final story is a brand new 書き下ろし (kakioroshi).
– Notes on story titles: A couple of Beatles songs in there. One 1001 Arabian Nights reference. One nod to Hemingway. A Japanese pun (独立器官 = independent organs instead of 独立機関 = independent bodies?). And a Japanese surname (木野 = Kino).
– He includes a forward, which he immediately notes that he does not enjoy doing but had to for this collection due to the way it came about (ooh, very interesting…I'll save the rest of the read for my commute tomorrow).
– Looks like a fun read! I'm sad to say that we're well beyond Murakami's early collections which were looser, more abstract, and contained shorter stories. I'll probably start reading this week and may or may not liveblog at some point this weekend. I make no promises: It is the NBA postseason.