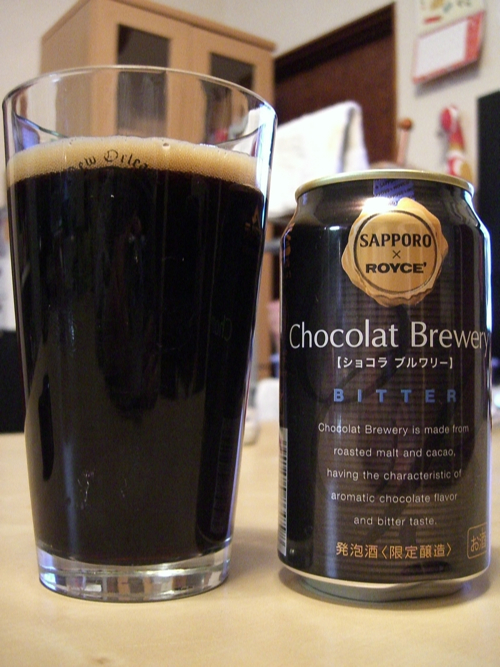 File this one under "I should've known better." Sapporo's 新発売 collaboration with famous Hokkaido chocolatier ROYCE'. (I've always wondered if that is pronounced "ROYCE Prime.") It's far too sweet and not very roasty or bitter at all, probably because of all the sugar they added to cover the bitterness of the cocoa nibs listed in the ingredients. I prefer Kirin's Beer Chocolat which didn't use any actual chocolate.
As you can tell from the title of this post, I have a small point to add about the Japanese てくる form, which I addressed here and here. Treyvaud sent me a link to a paper titled "Acquisition of the Japanese Errand Construction in Japanese as a Foreign Language." I dig the "base construction" theory of てくる on page 14 (all our base are belong to us, as it were), but the real point of the article is to examine why "the use of kuru 'come' in the [Japanese errand] construction especially seems to puzzle many of the students."
One of the most interesting parts of the article to me was learning that there are times when it is ungrammatical not to use てくる or ていく. (In other words, the -masu form is at times incorrect.) Treyvaud explains:
The graph on page 29 really interested me, because it seems to show that even beginners can recognize a correct sentence — they're just more likely not to realize that the incorrect ones are incorrect (because of English leaking in, L1 transfer). I guess since most courses aren't going to teach you a list of incorrect forms, the only way to overcome this is endless practice until you have a big bag of Japanese-specific knowledge to compare new sentences to (so that unusual forms are suspicious because you know that similar sentences would usually be said differently), rather than relying on "can I understand it?" or "would it make sense in English?" as your standard as beginners more or less have to.
Conversely, in my own high school English classes, I remember spending a significant amount of time on incorrect grammar patterns. Run-on sentences, comma splices, split infinitives. (Although, I guess this is because native students can already "do" English and just need to be shown what not to do.) The author doesn't seem to offer any suggestions to improve the status quo, but I wonder if highlighting incorrect usage wouldn't help non-native students.
And finally, the sad truth: "only five percent of L2 learners can reach a native speaker's level." Sigh.