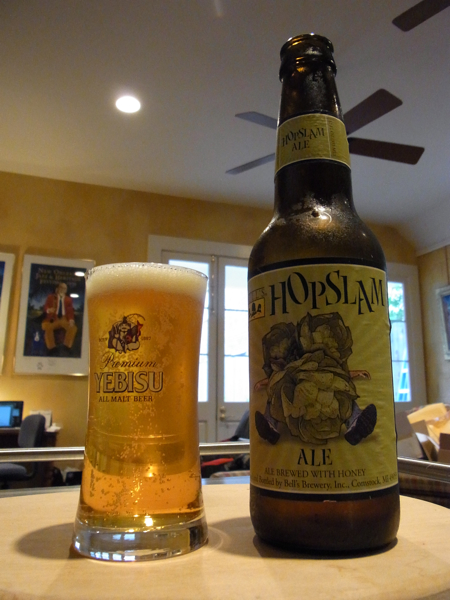 Style: American Double/Imperial IPA
ABV: 10.0%
Grade: A+
Pours a brilliant golden color, much lighter than a lot of IPAs and even a lot of pale ales these days, notably the Three Floyds Pale Ale I reviewed previously. Not an overpowerful hop nose, but still there – understated just like the color. The bottle notes that it's brewed with honey, and I think I can make out the flavor just slightly but not the aroma; the hops sort of make the honey addition a wash, so I'm not quite sure why they added it. It'd be really neat if they had a version with and without honey – that would be a great taste test. The bitterness has a great build and then crests nicely into the finish. Solid beer.
And wow, I just realized it's 10% ABV, making it an Imperial IPA, something that is not readily apparent from the bottle alone – there's actually no style listed. It disguises the alcohol very well and is surprisingly dry and crisp for an Imperial. I've definitely become somewhat curmudgeonly in my opinion of strong, sweet beers, but this one takes the category to a different level and makes it apparent why they used honey – to bump up the ABV without adding too much heaviness to the beer. I was leaning toward A- before I knew that this was an Imperial beer, but now it definitely gets the A+.
The only worrisome fact is that honey beers leave wicked hangovers. This is one to be careful with.
Check out Drew's reviews of Japanese beers:
Yona Yona Ao-oni IPA
Takashi Imperial Stout
Sapporo Royce Chocolat Brewery
Fujizakura St Valentine's Chocolate Wheat
Baird Beer Dark Sky Imperial Stout