Year One: Boobs, The Wind, Baseball, Lederhosen, Eels, Monkeys, and Doves
Year Two: Hotel Lobby Oysters, Condoms, Spinning Around and Around, 街・町, The Town and Its Uncertain Wall, A Short Piece on the Elephant that Crushes Heineken Cans
Year Three: "The Town and Its Uncertain Wall" – Words and Weirs, The Library, Old Dreams, Saying Goodbye, Lastly
Year Four: More Drawers, Phone Calls, Metaphors, Eight-year-olds, dude, Ushikawa, Last Line
Year Five: Jurassic Sapporo, Gerry Mulligan, All Growns Up, Dance, Mountain Climbing
Year Six: Sex With Fat Women, Coffee With the Colonel, The Librarian, Old Man, Watermelons
Year Seven: Warmth, Rebirth, Wasteland, Hard-ons, Seventeen, Embrace
Year Eight: Pigeon, Edits, Magazines, Awkwardness, Back Issues
Year Nine: Water, Snæfellsnes, Cannonball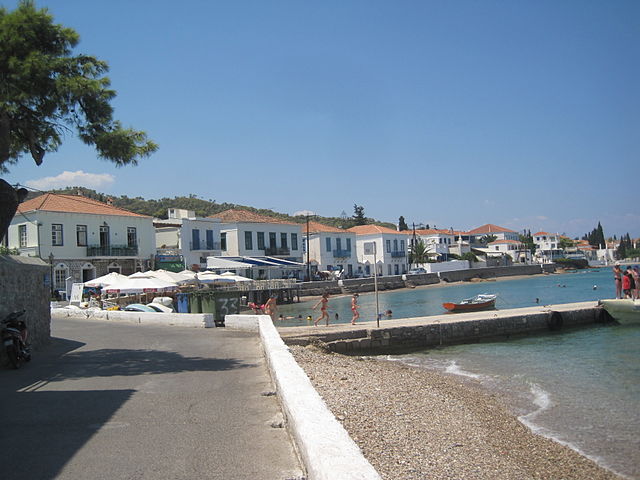 Apologies for skipping last week! I'll make up for the delay with a massive post this week.
This week I'm looking at one last essay in Murakami's 2015 collection of travel essays. The essay is titled 「懐かしいふたつの島で 」(On two nostalgic islands), and it was originally written in 2011. I'm about half way through the collection, and this is the best one so far.
This is partially due to the fact that reading this essay makes me nostalgic. Murakami visited the two Greek islands Spetses and Mykonos during his three-year sojourn to Europe from 1986-1989, and in this essay he goes back to see them. He wrote about his initial trip in the book 『遠い太鼓』 (A Distant Drum), which I read half of at some point years ago. There are a few scenes I can still remember from the book—the "Zorba" Greeks from the beach; Murakami and his wife walking through one of the towns, low on cash because he forgot to go to the bank before the weekend; Murakami running the original Marathon course; Murakami running in Sicily and being chased by wild dogs.
It's a great book, one that I really need to finish, one that deserves a full translation into English. (PICK ME! PICK ME!)
So I've picked a few of my favorite sections, starting with the introduction:
今から二十四年ほど前のことになるが、ギリシャの島に住んでいた。スペッツェス島とミコノス島。「住んでいた」といってもせいぜい合わせて三ヶ月くらいのことだけど、僕にとっては初めての「外国で暮らす」体験だったし、それはずいぶん印象深い体験になった。ノートに日々の記録をつけ、あとになって『遠い太鼓』という旅行記の中にそれをまとめた。

その後も何度かギリシャに行くことはあったけれど、それらの島をもう一度訪れたことはなかった。だから今回はそのとき以来の「再訪」ということになる。「ピルグリメイジ(巡礼)」という英語の表現がある。そこまで言うのはいささか大げさかもしれないが、要するにおおよそ四半世紀昔の自分の足跡を辿ることになるわけで、懐かしいといえばたしかに懐かしい。とくにミコノス島は小説『ノルウェイの森』を書き始めた場所だったので、僕の中にはそれなりの思いのようなものがある。

1986年9月にローマに着いて、その初秋の美しい光の中で一ヶ月間ほどを過ごし、それからアテネに行き、ピレエフス港から船でスペッツェス島に渡った。イタリアに本格的に住み始める前に、ギリシャで数ヶ月を送りたかった。10月も半ば、ギリシャの観光シーズンは既に終わって、働き疲れたギリシャ人たちがホテルやレストランや土産屋の店仕舞いを始める頃だ。この時期になると、いくらギリシャとはいえけっこう寒くなってくるし、天候もだんだん悪くなる。曇りの日が多くなり、冷ややかな風が吹き、雨もよく降るようになる。クルーズ船で夏の陽光溢れるエーゲ海の島を訪れたことのある人は、秋が深まったときそこがどれほどひっそりとした場所に(ある時には陰鬱なまでの場所に)なり得るかを知ったら、きっとびっくりするに違いない。

どうしてそんあ魅力的とは言いがたい季節を選んで我々(というのは僕と奥さんのことだが)がギリシャの島に住むようになったのか?まずだいいちに生活費が安かったから。高物価・高家賃のハイシーズンの時期に、ギリシャの島で何ヶ月か暮らせるような経済的余裕は、当時の我々にはなかった。それから天候のよくないオフシーズンの島は、静かに仕事をするのに向いているということもあった。夏場のギリシャはいささか騒がしすぎる。僕は日本で仕事をすることに当時疲れていて(それにはまあ、一口で言えないいろいろな理由があったのだが)、外国に出て面倒な雑事を逃れ、ひっそり仕事に集中したかった。できれば腰を据えて、長い小説も書きたかった。だから日本を離れて、しばらくのあいだヨーロッパに住むことに決めたのだ。 (85-86)

Nearly 24 years ago now, I was living on Greek islands. Spetses and Mykonos. "Was living" was only about three months total combined, but it was my first time "living abroad" and it turned into a very memorable experience. Every day I kept records in my notebook, and afterward I put them all together into the travelogue Tōi Taiko (A Distant Drum).

I had the chance to go to Greece a number of times thereafter, but I never visited those islands again. So this was my first "return" since then. English has the expression "pilgrimage." Using that term might be a slight exaggeration, but I followed my steps from a quarter century in the past, so it's safe to say it was nostalgic. Mykonos especially has a kind of affection within me because it is where I started writing Norwegian Wood.

I arrived in Rome in September 1986 and spent a month in the beautiful light of early autumn before going to Athens and then crossing over to Spetses by boat from Piraeus. I wanted to spend a few months in Greece before settling down in Italy. By mid-October, the Greek tourist season was over, and the exhausted Greeks had started to close up their hotels, restaurants, and souvenir shops. Around this time of year it's cold despite the fact that it's Greece, and the weather gradually gets worse. Cloudy days grew in number, cold winds blew in, and it started to rain often. Anyone who has taken a cruise ship through the islands of the sunny Aegean Sea of summer would be surprised to know how quiet (and at times even melancholy) a place it can become once autumn sets in.

Why did we (my wife and I) choose such a difficult-to-appreciate season to live on a Greek island? First, the cost of living was cheap. At the time, we didn't have the economic leeway to live for several months on a Greek island during the high season with its expensive prices and rents. Also, the off season and its bad weather was quiet and suited for getting work done. Greece in summer can be too rowdy. I'd gotten tired of working in Japan (there were a lot of different reasons for this that I can't explain in a single phrase), and I wanted to go to a foreign country to escape the bothersome everyday and focus quietly on work. If possible, I wanted to settle down and write a long novel. So I left Japan and decided to live in Europe for a little while.
One thing to note: Murakami arrived in September 1986, and Norwegian Wood was published in September 1987. That's a pretty impressive turnaround. It's even more impressive because we know he killed the first month in Athens! He didn't start writing until he arrived in Spetses:
敷地の中を少し見てまわってもかまわないでしょうか?昔しばらくここに住んでいたもので。僕が管理人のおばあさんにそう訊くと、「いいよ、どうぞ好きなだけごらんなさい」という返事が返ってきた。

当時僕らが暮らしていたユニットは、外から見る限りそのままだった。何ひとつ変わってはいない。19番のユニット。白い漆喰の壁と、青く塗られた柱。そこで僕は『ノルウェイの森』の最初の数章を書いた。とても寒かったことを記憶している。12月、クリスマスの少し前のことだった。部屋には小さな電気ストーブひとつしかなかった。分厚いセーターを着て、震えながら原稿を書いた。当時はまだワープロを使っていなかったから、大学ノートにボールぺんでこりこり字を書いていた。窓の外には石ころだらけのうらぶれた野原があり、そこで羊の小さな群れが黙々と草を食べていた。僕の目にはあまりおいしそうな草には見えなかったが、羊たちはそれでいちおう満足しているようだった。

書くのに疲れると手を休め、頭を上げ、そんな羊たちの姿をぼんやり眺めた。ガラス窓の向うに見えるその風景を、今でもよく覚えている。壁に沿って大きなキョウチクトウが生えていた。オリーブの木もあった。窓から眺めた野原は当時のままうらぶれて残っていたが、なぜか羊たちの姿はなかった。

当時は朝から昼間にかけて小説を書き、夕方になると散歩がてら街に出て、バーでワインかビールを軽く飲むことにしていた。詰めて仕事をしたあとでは、何かそういう気分転換が必要だった。だからいろんなバーに行った。「ミコノス・バー」「ソマス・バー」、あといくつか名前の思い出せないバー。そういうバーにはミコノスに住み着いた外人(非ギリシャ人)たちがたむろして、小さな声で会話を交わしていた。そんな季節にミコノスにいる日本人は僕らくらいで、けっこう珍しがられた。「ミコノス・バー」で働いていた女性はとてもチャーミングな皺を寄せて笑う人で、僕はこの人を—というかその皺の具合を—イメージして『ノルウェイの森』のレイコさんという人物を描いた。(91-92)

Would you mind if I looked around inside the place a little? I lived here a little while a long time back. When I asked the old woman who managed the place, she replied, "Sure, look around as much as you like."

The unit we lived in back then looked the same from the outside. Nothing had changed. Unit 19. White stucco walls and columns painted blue. I wrote the first few chapters of Norwegian Wood here. I remember it being very cold. It was December, just before Christmas. There was only a single electric heater in the room. I wrote while shivering in a thick sweater. I wasn't yet using a word processor at the time, so I scratched out characters with a ballpoint pen in a college notebook. Outside the window was a ragged field covered with rocks where a small herd of sheep silently munched on the grass. The grass didn't look all that tasty to me, but it seemed to satisfy the sheep.

When I got tired of writing, I rested my hand, lifted my head and gazed at the sheep. Even now I can still remember the landscape beyond that glass window. A large oleander had been growing along the wall. There had been an olive tree as well. The field outside the window was just as ragged as it had been, but for some reason the sheep were gone.

I would write the novel from the morning through the day, and at night I went out into town for a walk and had a little wine or beer at a bar. After working intently, I needed a change of pace like that. So we went to a bunch of different bars. Mykonos Bar, Somas Bar, and several others whose names I can't remember. Foreigners (non-Greeks) who had settled on Mykonos hung out at bars like that and had quiet conversations. We were about the only Japanese on Mykonos during that season, and they were quite curious about us. There was a woman working at Mykonos Bar who had very charming wrinkles that gathered when she smiled, and I based the character Reiko on her—or should I say her wrinkles.
This section is mostly just a little trivia, but nice for Murakami maniacs like myself. There's one more section where his writing comes up, and it's worth sharing as well:
昔ながらの木造漁船を造る小さな造船所から、とんとんとんという木槌の響きが聞こえてくる。どことなく懐かしい音だ。規則正しい音がふと止み、それから少ししてまた聞こえる。そういうところはちっとも変わっていない。その木槌の音に耳を澄ませていると、二十四年前に心が戻っていく。当時の僕は『世界の終わりとハードボイルド・ワンダーランド』という小説を書き上げ、次の作品『ノルウェイの森』の執筆に取りかかることを考えている三十代半ばの作家だった。「若手作家」という部類にいちおう属していた。実を言えば、自分では今でもまだ「若手作家」みたいな気がしているんだけど、もちろんそんなことはない。時間は経過し、当然のことながら僕はそのぶん年齢をかさねた。なんといっても避けがたい経過だ。でも灯台の草の上に座って、まわりの世界の音に耳を澄ませていると、あの当時から僕自身の気持ちはそれほど変化していないみたいにも感じられる。あるいはうまく成長できなかった、というだけのことなのかもしれないけど。 (106-107)

I could hear the clap, clap, clap of a mallet coming from a small shipyard that built old wooden fishing boats. It was a somewhat nostalgic sound. The even beats stopped and then began again after a moment. This hadn't changed at all. When I listened carefully to the sound of the mallet, my soul was transported back 24 years in the past. I was a writer in his mid-30's who had just finished writing Hard-boiled Wonderland and the End of the World and was thinking about starting to write Norwegian Wood. I was considered a "young writer." To tell you the truth, I myself still kind of feel like a "young writer" even now, but of course that isn't the case. Time passed, and naturally I aged an equivalent amount. It's an unavoidable progression, as it were. But as I sat there in the grass under the lighthouse and listened carefully to the sounds of the world around me, it didn't seem like my feelings from that time had changed all that much. Or it might be just that I had not been able to grow very well.
Murakami is generally at his best when writing about himself and things he's familiar with, stuff he's experienced. This section is good, and there's a very nice ending with him leaving on a boat and watching Mykonos fade into the distance.
I don't think the essay is quite as good as Tōi Taiko, and it's no A Moveable Feast, but it's still a nice read. I'd definitely recommend picking up that book before this essay.
And that's it for Murakami Fest 2016! Thanks for reading. The announcements come next week, as usual. The site says October 3-10, but the Literature date has not yet been set. Keep an eye out. You can stream the announcement live on the website or on YouTube. Maybe this is the year!