Welcome to the Tenth Annual How to Japanese Murakami Fest!
With the goal of stirring up even more interest in Murakami between now and October, when the Nobel Prizes are announced, I will post a small piece of Murakami translation/analysis/revelation once a week from now until the announcement. You can see past entries in the series here:
Year One: Boobs, The Wind, Baseball, Lederhosen, Eels, Monkeys, and Doves
Year Two: Hotel Lobby Oysters, Condoms, Spinning Around and Around, 街・町, The Town and Its Uncertain Wall, A Short Piece on the Elephant that Crushes Heineken Cans
Year Three: "The Town and Its Uncertain Wall" – Words and Weirs, The Library, Old Dreams, Saying Goodbye, Lastly
Year Four: More Drawers, Phone Calls, Metaphors, Eight-year-olds, dude, Ushikawa, Last Line
Year Five: Jurassic Sapporo, Gerry Mulligan, All Growns Up, Dance, Mountain Climbing
Year Six: Sex With Fat Women, Coffee With the Colonel, The Librarian, Old Man, Watermelons
Year Seven: Warmth, Rebirth, Wasteland, Hard-ons, Seventeen, Embrace
Year Eight: Pigeon, Edits, Magazines, Awkwardness, Back Issues
Year Nine: Water, Snæfellsnes, Cannonball, Distant Drumming
Year Ten: Vermonters, Wandering and Belonging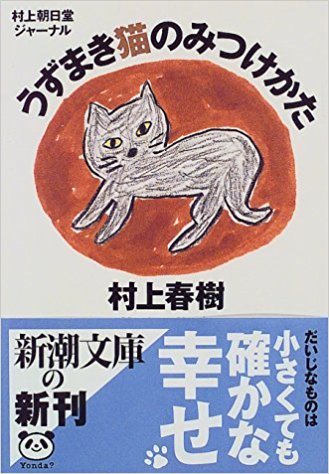 The final essay in the collection Uzumaki neko no mitsukekata is 「猫のピーターのこと、地震のこと、時は休みなく流れる」 ("Peter Cat, Earthquakes, Time Flows Ceaselessly"). This feels more like an essay than any of the others I've read, and that's mostly because the large majority of it details Murakami's first cat Peter rather than a section of his time in America. He uses one page at the end to discuss returning to Kobe to give a reading (one of his few public readings in Japan) to benefit the 1995 earthquake. It's an interesting end to a mostly uninteresting collection.
I believe this may be the source of the title as well. I haven't read all the essays, so I can't say for certain, but as we'll see shortly, Peter is a 虎猫 (toraneko, tabby), another way of saying Uzumaki neko:
猫に名前をつけるというのは、英国の先人も述べておられたとおり、なかなか難しいものである。僕は学生時代、三鷹のアパートに住んでいたときに、一匹の雄の子猫を拾った。拾ったというか、アルバイトの帰り、夜中に道を歩いていたら勝手にうしろからにゃあにゃあとついてきて、僕のアパートの部屋にいついてしまったのである。茶色の虎猫で、長毛がかかって頬がふわふわしたもみ上げみたいな感じになっていて、なかなか可愛かった。けっこう性格のきつい猫だったが、僕とすっかり意気投合して、それから長いあいだ二人で一緒に暮らすことになった。

この猫にはしばらくの間名前をつけていなかったのだが(名前を呼ぶ必要もとくになかったので)、ある日ラジオの深夜番組−確か『オールナイト・ニッポン』だったと思うな−を聞いていたら、「私はピーターという名前の可愛い猫を飼っていたのですが、それがどこかにいなくなってしまって、今はすごくさびしい」というリスナーからの投書があった。それを聞いて、「そうか、じゃあ、この猫はとりあえずピーターという名前にしよう」と思ったのである。それだけのことで、名前に関してとくに深い意味はない。

このピーターはすごくしっかりした猫で、僕が大学の休みで帰省しているあいだは野良猫として、そのへんでなんとか自活して生きていて、僕が帰ってくるとちゃんとまたうちの飼い猫になった。そういう生活を僕らは何年にも渡って続けていたわけである。僕がいないあいだ、彼が一体どこでどんなものを食べて暮らしていたのか、僕にはよくわからなかった。しかしあとになって行動を観察しているうちに、彼が食料源の多くを略奪と野生動物の捕獲に頼っていたらしいことがだんだん判明してきた。そのようにして、学校が休みになって僕が帰省するごとに、ピーターはますますたくましくワイルドな雄猫に育って行ったわけだ。

その当時、僕が住んでいたところにはまだ武蔵野の面影が色濃く残っていて、まわりには野生動物なんかもけっこうたくさんいた。ある朝ピーターがなんかをくわえて持ってきて、僕の枕元にはなり出すので、「やれやれ、おまえまたネズミを捕まえてきたのかよ」とぶつぶつ言いながらよく見ると、それは小さなもぐらだった。実物のもぐらなんかみたのは僕も生まれて初めてである。きっとピーターはもぐらの穴の前で夜中じゅうじっと待ち受けていて、出てきたところをすかさずばしっと捕まえたのだろう。そして首をくわえて、「ほら、どうですか」と得意げに僕に見せに来たのである。もぐらには気の毒だと思ったけれど、そこに至るまでのピーターの苦労を思うと、やはり「よしよし」と頭を撫でて、何か美味しいものを与えてやらないわけにはいかなかった。

当時、猫を飼うことの問題点といえば、僕の経済状況が往々にして逼迫していたということだった。飼い主がろくに飯を食べる金もないのに、猫が食べるものなんてあるわけない。僕には当時経済的計画性というものが全くなかったので(今でもそれほどあるとは思えないけれど)、全くの無一文状態が一ヶ月のあいだにだいたい一週間くらい続くことになった。そういうときは、よくクラスの女の子に頼み込んでお金を借りた。僕が金がなくて腹を減らせていると言っても、「知らないわよ。そんなことはムラカミくんの事業自得でしょうが」と相手にもされないのがおちだが、「金がなくて、うちの猫に食べさせるものもない」と言うと、多くの人は同情して「しょうがないわねえ」と言いながら、ちょっとくらいは金を貸してくれた。とにかくそんなことをして、猫と飼い主と二人で必死に貧困と飢餓を耐え忍んだものである。ちょっとしかない食べ物を猫と文字どおり奪い拾ったこともある。今考えても情けない生活だった。楽しかったけど。 (220-224)

The naming of cats, as one of our British predecessors stated, is a difficult matter. During my college years when I was living in an apartment in Mitaka, I found a kitten. I say found, but I was walking along the street at night on the way home from my part time job when he came up behind me meowing and followed me all the way back to my apartment. He was a brown tabby with long hair and fluffy cheeks that made it seem like he had sideburns; he was pretty cute. He was somewhat fierce, but we got along right away, and from then on the two of us lived together for a long time.

I didn't give the cat a name for a while (I didn't really need to call him by name), but one day I was listening to a late night radio program—I think it was "All Night Nippon"—and a listener called in and said, "I had a cute cat named Peter, but he's run off somewhere and I'm really sad." I heard that and thought, "Ah, well, I'll name this cat Peter for now." That's it, his name doesn't have deep meaning.

Peter was an incredibly clever cat; while I returned home during university vacation, he managed to survive on his own in the area, and when I got back he was my cat again. We lived that way for a number of years. I didn't really know what he was eating to survive when I was gone. However, later on as I observed his behavior, it gradually became clear that he relied on stealing and hunting wild animals as his major sources of food. As we lived this way, Peter became stronger and grew into a wilder cat each time university vacation rolled around and I went home.

At that time, traces of Musashino were still relatively pronounced, and there were a lot of wild animals in the area. One morning Peter came in with something in his mouth and dropped it by the bed, so I grumbled, "Great, have you caught a rat?" but when I looked over it was a mole. It was my first time ever seeing an actual mole. Peter must've camped out at the mole's hole the entire night and then pounced on it the second it came out. And then he took it by the neck in his mouth and proudly brought it to show me: "Check this out. Whaddya think?" It was too bad for the mole, but when I thought of the effort that Peter went to, I said, "Good kitty," pet him on the head, and felt obligated to give him some sort of tasty snack.

At the time the problem of having a cat was that my financial situation was tight every now and then. If an owner doesn't have money to eat well, of course there won't be anything for a cat to eat. I had zero financial plan back then (I don't think I have that much of one even now), so each month there was usually a week or so when I was flat broke. During those times I would often ask girls in my class to borrow money. If I told them I had no money and was hungry, they'd always end up saying, "Whatever. You get what you deserve, Murakami" and wouldn't pay attention to me, but if I said, "I don't have any money to feed my cat," most of them would sympathize, say, "I guess I have to," and lend me a little money. That's how a cat and his owner were somehow able to stave off poverty and starvation. Sometimes I literally stole a meager amount of food with my cat. When I think back, it was a pathetic life. But it was fun.
This essay is sweet. Murakami has a true affection for cats, and it comes through here. It's also interesting to read about what his college life was like and how poor he was…although he came from a well-to-do family and attended a private university, so I wonder how true to life this is. He didn't get along well with his father, so he might have mostly been on his own during this time, but we do know that he was visiting home.
The rest of the essay is worth tracking down if you're into cats, and this is a very easy reading collection, so I'd recommend it to intermediate students. It's also nice because the essays are in chronological order and build on each other as Murakami lives through this time in the U.S.
It also goes to show how much publishable material you can put out if you set it in your mind to journal every day. This is good advice to all aspiring writers. Take down details of events and conversations, what you did and where you went. You never know what kind of work you could turn it into later.
For the last two weeks there's an (I hope) interesting supplement that came with the book. I'll hopefully take something from it. Otherwise I'll dig back through the essays.