Year One: Boobs, The Wind, Baseball, Lederhosen, Eels, Monkeys, and Doves
Year Two: Hotel Lobby Oysters, Condoms, Spinning Around and Around, 街・町, The Town and Its Uncertain Wall, A Short Piece on the Elephant that Crushes Heineken Cans
Year Three: "The Town and Its Uncertain Wall" – Words and Weirs, The Library, Old Dreams, Saying Goodbye, Lastly
Year Four: More Drawers, Phone Calls, Metaphors, Eight-year-olds, dude, Ushikawa, Last Line
Year Five: Jurassic Sapporo, Gerry Mulligan, All Growns Up, Dance, Mountain Climbing
Year Six: Sex With Fat Women, Coffee With the Colonel, The Librarian, Old Man, Watermelons
Year Seven: Warmth, Rebirth, Wasteland, Hard-ons, Seventeen, Embrace
Year Eight: Pigeon, Edits, Magazines, Awkwardness, Back Issues
Year Nine: Water, Snæfellsnes, Cannonball, Distant Drumming
Year Ten: Vermonters, Wandering and Belonging, Peter Cat, Sushi Counter, Murakami Fucks First
Year Eleven: Embers, Escape, Window Seats, The End of the World
Year Twelve: Distant Drums, Exhaustion, Kiss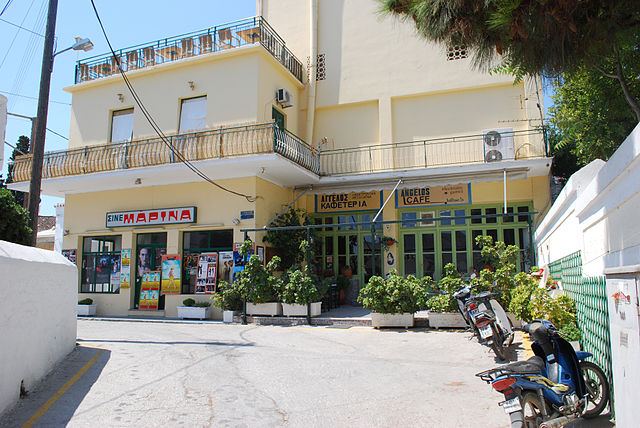 Murakami arrives on Spetses in mid-October, right at the end of the high season while there are still people on the beach. The bars and restaurants are full, there are breasts being bared (and people ogling those breasts), but there is also a transition as some leave and others return to the island during the change in seasons. The island is so small that they take a horse-drawn wagon to the house from the port.
Murakami talks about his jogs and how he discovers the island and how it's changing. He recounts a time when he forgot to cash traveler's checks and he and his wife are forced to be frugal over a weekend when the banks are closed—he does this in a funny way, imagining Greek choruses singing the takeaways behind he and his wife. He also recounts a big chunk of history of the island in the form of shipbuilding and war.
He and his wife gradually settle into the rhythm of life on the small, isolated island, and Murakami does what he's always loved to do during down time: go to the movies. This is another excellent opportunity for him to do some location as character work:
There are two movie theaters in town, one which closes in the fall, and another that's open year round. The one that closes is named "Cine Marina," and the one that's open is named "Cine Titania." Both are on the outskirts of town, and neither look very much like a movie theater. "So, what do they look like?" you might ask, and I'd be flummoxed. To be perfectly honest, this is due to the fact that they don't look like anything at all. If I had to describe them, I'd say they have the feel of those stores, ubiquitous in every shopping arcade, that give no hint of what they sell. They are much too narrow to be movie theaters, and the doors look like the doors on a run-of-the-mill general goods shop. The reason you can tell they're movie theaters is entirely because of the movie posters hung outside the entrance. There are two posters, one labeled "ΣΗΜΕΡΑ (simera, today)" and the other "ΑΥΡΙΟ (avrio, tomorrow)." By which they mean this one is being shown today, and the other tomorrow, but as with most Greek ΑΥΡΙΟs, they weren't really applicable. Sometimes when we went they showed the same thing as the day before, and other times they showed an entirely different film from what was advertised. So I thought the best policy was to take these as a sort of "rough hypothesis." However, whatever the case was, the entrances had a total lack of pretense.

This lack of pretense differed slightly in sensibility from that of the movie theaters in the small cities of rural Japan. No matter how small and run down and dirty and reeking of piss a Japanese theater may be, it at least announces itself as a movie theater. The building is a little different from the surrounding buildings, and there's what might best be called a festive atmosphere to the place, to one degree or another. However, the movie theaters on this island have none of that appearance. There are two posters, one says ΣΗΜΕΡΑ, the other ΑΥΡΙΟ, and that's the end of the story. It was such a small town on such a small island that there must not have been any need to put out a sign notifying everyone that it was a movie theater.

町には映画館がふたつあって、片方は秋になると閉館し、片方は年間を通して開いている。閉館する方の名前は「シネマリーネ」、開いている方の名前は「ティタニア映画館」である。どちらの映画館も町外れにあるが、どちらも特に映画館らしい格好はしていない。じゃあいったいどういう格好をしているんだ、と聞かれても困る。はっきり言って、どういう格好もしていないからだ。あえて言うならば、どんな商店街の中にも必ずひとつは存在する「何を売っているのか見当もつかない店」という雰囲気である。映画館というにはあまりにも間口が狭く、扉もごく普通の雑貨屋みたいな感じの扉である。これが映画館だとわかるのは、ただひとえに入り口の脇に映画のポスターが貼ってあるからだ。ポスターは二枚あって、ひとつには「ΣΗΜΕΡΑ(シーメラ・本日)」ひとつには「ΑΥΡΙΟ(アーヴァリオ・明日)」という札がぺたんと貼ってある。こっちのは本日上映のやつで、こっちは明日上映のやつですよ、ということだが、大方のギリシャのΑΥΡΙΟがそうであるようにあまりあてにはならない。行ってみると昨日とおなじものをやっていたということもあるし、予告とは全然別の作品を上映していたということもある。だからこういう予告は「ある種のおおまかな仮説」というくらいに考えていた方が懸命であろうと思う。しかしいずれにせよ、全く愛想というものがない門構えである。

こいう愛想のなさは、日本の地方小都市の映画館のありかたとはいささか趣を異にしている。日本の映画館というのはどんなに小さくてぼろくて汚くて小便臭いところでも、一応ここは映画館ですという格好をしている。建物の感じも周りの普通の建物とはちょっと異なっているし、そこには程度の差こそあれ祝祭的とでもいうべき雰囲気が漂っている。ところがこの島の映画館にはそういった構えがまるでない。ポスターが二枚貼ってあって、一方がΣΗΜΕΡΑ、一方がΑΥΡΙΟ、それでおしまいである。どうせ狭い島の狭い町だから、いちいちここが映画館ですと看板を出して断る必要がないのだろう。(90-91)
The section on the theater is quite long and a lot of fun. He and his wife go to see a Bruce Lee movie. The have a bizarre encounter with an old woman at the entrance who insists it isn't Bruce Lee, but a man shoes them into the theater where they discover it's someone else reenacting the life of Bruce Lee. A horde of young kids are monkeying around in the theater until some of the adults who stroll in late shout them all down. It sounds like a pretty funny experience, and unfortunately too long to translate in completion here.
And as for the theaters themselves, it looks like they still exist! The photo at the top seems to be Cine Marina from a Wikimedia Commons entry, and there are a number of pages for Cine Titania, which appears much more theater-like these days after a 2017 facelift. The photo above, however, looks much like Murakami describes – a random, rural grocery store somewhere in Japan.