Welcome back to Murakami Fest 2020!
Previous Murakami Fest Posts:
Year 1: Boobs, The Wind, Baseball, Lederhosen, Eels, Monkeys, and Doves
Year 2: Hotel Lobby Oysters, Condoms, Spinning Around and Around, 街・町, The Town and Its Uncertain Wall, A Short Piece on the Elephant that Crushes Heineken Cans
Year 3: "The Town and Its Uncertain Wall" – Words and Weirs, The Library, Old Dreams, Saying Goodbye, Lastly
Year 4: More Drawers, Phone Calls, Metaphors, Eight-year-olds, dude, Ushikawa, Last Line
Year 5: Jurassic Sapporo, Gerry Mulligan, All Growns Up, Dance, Mountain Climbing
Year 6: Sex With Fat Women, Coffee With the Colonel, The Librarian, Old Man, Watermelons
Year 7: Warmth, Rebirth, Wasteland, Hard-ons, Seventeen, Embrace
Year 8: Pigeon, Edits, Magazines, Awkwardness, Back Issues
Year 9: Water, Snæfellsnes, Cannonball, Distant Drumming
Year 10: Vermonters, Wandering and Belonging, Peter Cat, Sushi Counter, Murakami Fucks First
Year 11: Embers, Escape, Window Seats, The End of the World
Year 12: Distant Drums, Exhaustion, Kiss, Lack of Pretense, Rotemburo
Year 13: Murakami Preparedness, Pacing Norwegian Wood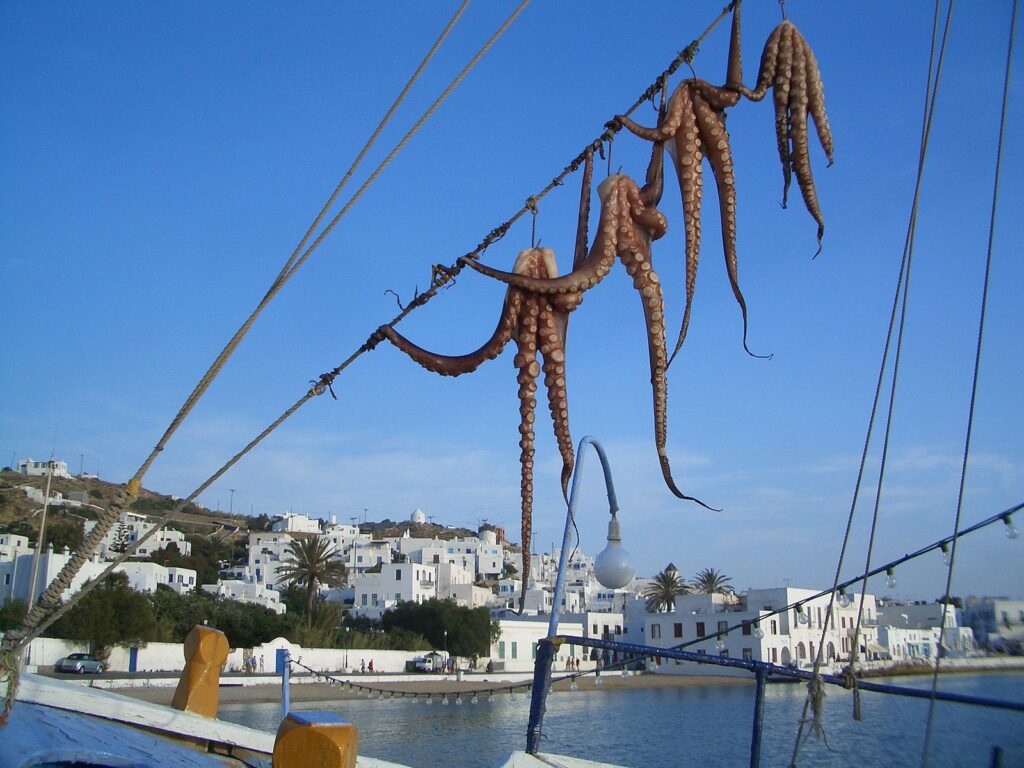 The next chapter is titled "The Port and Vangelis" (港とヴァンゲリス), and it nicely summarizes the somewhat disorganized chapter that serves as a travel sketch and profile.
A big part of Murakami's life on Mykonos revolves around the weather and availability of fish. They have to rush to the market in the morning to buy fish. There's no fish store, just the market, and everything available sells out in a 30-minute window after the boats return from fishing in the morning. So when the weather is calm, they rush to the market and buy a few days' worth of fish.
Greek food doesn't sit well for them, and they end up needing to purge with simple meals after eating too much of the local food. Murakami goes on extensively about hanging out octopus to dry before cooking it, and there is even a photo included of an octopus strung out with Mykonos in the background included in the text. (Photo above is not from the book, but rather from Wikimedia Commons.)
This chapter is a good example of Murakami capturing characters on his trip. This section about the fish market leads naturally to their building manager Vangelis, who walks around the market talking with everyone. He manages a set of 20-30 two-floor buildings all surrounded by a wall. Each building has two maisonette style apartments. He's turning 60 the following year and is relatively uneducated but has good intuition. He has a son and a daughter and two grandchildren. Family is important to him, and he seems disappointed Murakami doesn't have kids. I'd say he could serve as inspiration for the Colonel in Hard-boiled Wonderland, but he'd already published that book by this point. It's almost the reverse: one of his fictional characters come to life in the form of a middle-aged Greek man.
I enjoyed this part about Vangelis on Christmas Day:
Vangelis doesn't drink while he works. But on Christmas Day, he put on his best suit and got quite drunk in his building manager's office. Well, Christmas is basically like Japanese New Year's. When Vangelis gets drunk, he turns bright red, is much more cheerful than usual, and talks loudly. He offered me some whiskey. He filled a glass to the brim. The whiskey was Johnny Walker Red Label. He was extremely proud to be drinking Johnny Walker. He must've been saving it specially for Christmas. He usually drinks cheap wine. He never drinks uzo. A long time ago he got drunk on uzo and something happened, so he seems to have sworn off it. No matter how much uzo I offered, Vangelis never took a sip of it. "Uzo is bad liquor," he said with a dark look on his face. "Makes you an idiot. Haruki, you should be careful. Drink wine instead."

ヴァンゲリスは仕事中は酒を飲まない。でもクリスマスの日には一張羅のスーツを着込んで、管理人室でかなり酔っぱらっていた。まあクリスマスといえば正月みたいなものである。ヴァンゲリスは酔っぱらうと真っ赤になって、いつもより陽気になり、声が大きくなる。そして僕にウィスキーを飲ませる。グラスになみなみと注いでくれる。ウィスキーはジョニー・ウォーカーの赤ラベルである。彼はジョニー・ウォーカーを飲んでいることがすごく得意そうだった。きっとクリスマス用に大事にとっておいたお酒なのだろう。いつもはだいたい安物のワインを飲んでいる。ウゾーは飲まない。昔ウゾーで酔っぱらって何かあって、それで懲りたのかもしれない。僕がどれだけウゾーを進めても、ヴァンゲリスは絶対に口をつけなかった。「ウゾー、悪い酒。頭バカになる。ハルキも気をつけたほうがいい。ワインにしなって」と言って暗い顔をした。 (156)
Vangelis takes a liking to the Murakamis and ends up serving as a social go-between for them. He takes them with him to Cafe Neon, a space for locals where foreign tourists aren't usually welcomed. He pours them wine, points out items on the menu, and eventually the cafe warms up to the Murakamis.
The chapter ends with one additional character, whom Murakami calls T氏 (T-shi, Mr. T). This is interesting because so far Murakami has referred to everyone by name. I think this is likely because T is the property owner and the description of him isn't flattering. He tries to sell one of the buildings to Murakami, who decides not to make a purchase. There is a cryptic mention of his finances in Tokyo:
But of course we didn't buy one. They were nice vacation houses and pretty well built, the price was high but fair, and I liked the manager, Vangelis. But at that time, we didn't have the leeway (we'd left Japan because financially we'd had a bit of instability), plus Greece is a little far from Japan. It's not an easy place to access, where you might say, guess I'll go to Guam for a bit, even if you had the time. If you had a vacation house in a place like Greece it would just end up being a lot of work.

でももちろん僕らは買わなかった。なかなかよくできた良いリゾート・ハウスだったし、値段も高いなりにまあ妥当な値段だったし、管理人ヴァンゲリスのことも気に入っていた。でもそのときは僕らにはそんな余裕はなかったし、(僕らは経済的にはそれなりの不安を抱えて日本を出てきたのだ)、それにギリシャは日本からいささか遠すぎる。暇ができても、じゃあちょっとグアムにでも行くかという風に簡単に行けるところではない。そんなところにリゾート・ハウスを持っても手間がかかるでけである。(158)
This is interesting, and perhaps refers to some of the "negative reasons" he ended up needing to take the European trip. But it does feel strange. He'd given up the jazz bar gig after completing Pinball, 1973, had had some serious success and written lots of stories and four novels, including the lengthy Hard-boiled Wonderland and the End of the World, plus we know he's exhausted from all the writing and writing-adjacent work he's been doing. But I guess cost of living in Japan might have been high for the salary he was able to turn around? Interesting little passage.