I wish I kept better track of all the movies I've seen in theaters in Japan.
The first was some sort of French film at a small theater in Okayama with a coworker at the company where I was interning on what she told me was 映画の日 (Eiga no hi, Movie Day). I remember her saying that it was the first of every month, but actually 映画の日 is the first of December, which is this upcoming Thursday. Movie tickets are widely discounted on the first of the month, but apparently only December 1 is actually Movie Day. I think I went to see another movie at the same theater with the same coworker on Ladies Day, but don't remember which movie it was.
I remember seeing "The Return of the King" at Roppongi Hills when I was studying abroad at Waseda. I'd just finished reading the book. I waited and then went to see the movie. I must've seen another movie or two while studying abroad, but I can't remember what they might've been.
On JET, I saw "King Kong" at the Prince in Shinagawa during my first winter break. One of the "Pirates of the Caribbean" movies at a theater in Koriyama. "Kung Fu Panda," again at the Prince in Shinagawa. And then I think an anime in 2010 before I moved home, could've been Arietty, but I'm not sure. That was also at the Prince.
This time in Japan, I've been to see "2046" at Kyoto Cinema thanks to a free ticket from a coworker.
That feels like too few movies for so much time in Japan, but you have to remember that torrents dominated the 2000s and that I was not earning much. I vividly remember finally passing my driver's license exam and then celebrating by watching five episodes of The Sopranos.
At any rate, this past weekend I went to see すずめの戸締り (Suzume no tojimari, Suzume Closes the Door), the latest from Shinkai Makoto. So I guess it was probably only the second or third Japanese movie I've seen in the theaters, definitely under 10, and likely no more than fifth or sixth, even if there are some gaping holes in my memory. There must've been something else that just isn't coming to mind for me right now.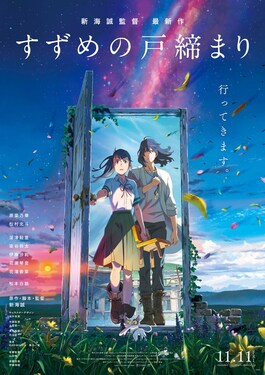 It was a great movie! Not as good as 君の名は (Kimi no na wa, Your Name), but the experience was better. The theater rumbled like a video game controller, and I ate mentaiko-flavored popcorn that I then rubbed on my mask, turning it not-quite Cheetos orange. I saw "Your Name" at the Music Box in Chicago, which is a historic theater but not as technologically new. Still, I was able to have Dairy Queen for dessert right after and an IPA during the movie, so it wasn't a bad experience at all.
I didn't have trouble understanding all that much of the movie. The hardest part were the regional Shikoku and Kyushu accents, which I think were supposed to be difficult to understand. I feel like watching so many J drama have paid off.
It was a wonderful ode to the Japanese islands (minus Hokkaido) and made me want to ride a ferry somewhere in the Inland Sea. Maybe I'm due for another trip to Matsuyama, or Beppu, or Nagasaki. Fukuoka would do.
For now, though, I don't want to miss anymore movies. I'm making an effort to do more, just whatever I see, whatever looks interesting and unique, especially art exhibits. I've been to just about everything interesting within reach, and now I'll have to keep watch for new exhibits. Which reminds me that I should check back in with Kyoto Cinema. I just got home from a quick trip to Kiyomizu-dera to see the illuminated foliage. If I hustle, I can be in the center of Kyoto by 6:00pm after work, which gives me time to grab a bite and catch a movie without any issue.
What museums, movie theaters, and tourists sights in the Kansai area have I missed? Would love to hear your thoughts in the comments!
If you're looking for further reading, don't miss the November newsletter. I wrote up a few thoughts about how I learned the full nuance of だけ.