I'm cursed for some reason. Whenever I try to watch the movie Paprika, I'm always interrupted. I've made it halfway through several times, but inevitably something comes up and I'm forced to pause it, promising to finish at a later time. Last night I only made it 15 minutes in before I realized I would have to bail. That was still enough time to see this fansub failure: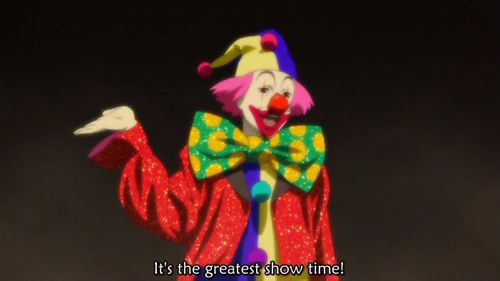 Sure, it's an accurate translation from a certain point of view – it is what comes out of her mouth (the line in Japanese is 「イッツ・ザ・グレーティスト・ショータイム!」) – but clearly the film is referring to the Ringling Brothers' famous slogan "The Greatest Show on Earth," so I think a better translation (that takes into account the philosphy underlying my inequality posts) would be "Time for the Greatest Show on Earth!" Or, if you don't want to trample on the Ringling Brothers' intellectual property, "Time for an amazing show!" "It's the greatest show time" is a failure of English.
I must finish watching this movie soon. I've vowed to finish watching it before I see Inception so that I can figure out if it inspired any of the movie. And I should probably see Inception before school starts. So in the next week or two.