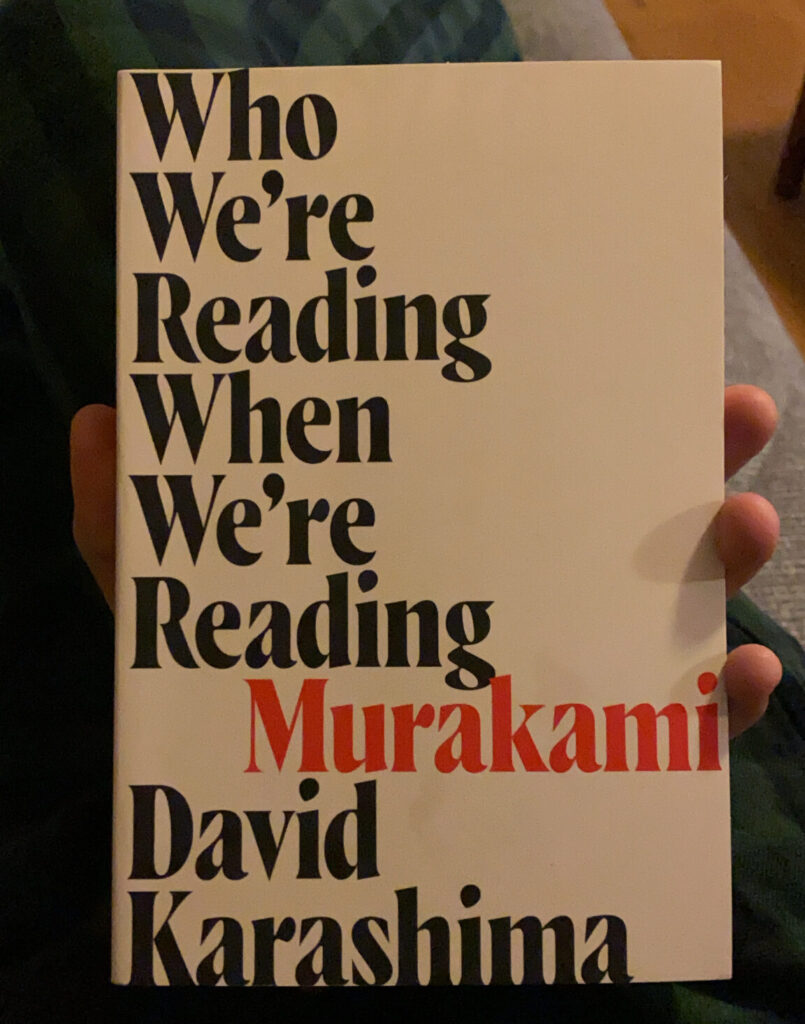 I resisted the call to read David Karashima's Who We're Reading When We're Reading Murakami for too long.
I read a few of the excerpts online, which were interesting, and I laughed at quotes that I saw on Twitter (one from David Mitchell, which I include below), but I think I finally bit the bullet when I realized that the Chicago Public Library had a copy. Once I started reading, I knew I needed to own a personal copy just a few pages in: It's an incredible book.
Karashima mines personal correspondence from Murakami, Alfred Birnbaum, Elmer Luke, Jay Rubin, and tons of folks on the publishing side. He's looking at faxes, emails, and edited manuscripts. He speaks with Junot Diaz, David Mitchell, and Tess Gallagher amongst other famous writers. My only complaint about the book is that it ends with the publication of The Wind-Up Bird Chronicle. There's so much more to look at. But I'm sure that the publisher had him on a tight word count.
Here's a running list of takeaways I kept while I was reading the book. I'm not sure if these qualify as "spoilers," but if you haven't read the book yet, you may want to do that before reading these:
– Birnbaum translated Pinball, 1973 before Hear the Wind Sing. He also had no formal translation training. Karashima makes it sound like he just submitted the manuscript and then the bunkobon KI version of the translation showed up in the mail later on! This seems like the way Murakami submitted his only copy of the Hear the Wind Sing manuscript.
– Norwegian Wood was published in September 1987 and sold 800,000 copies by January 1988. By the end of that year it was 3.55 million. Those are crazy numbers.
– Elmer Luke fasted twice to avoid the draft. There has obviously been a lot of "bone spurs" talk in recent years, which I think has done a disservice to conscientious objectors during the Vietnamese War: the passages in the book—Elmer Luke riding with a bus full of others who all had excuses to get out of the draft—really emphasized to me how unjust it was, as a war, as a strategy to man a war, and especially for those who weren't able to avoid it and ended up dying in Asia. What art have we lost or nearly lost because of war?
– Shigeo Okamoto, the designer who did the cover for 回転木馬のデッド・ヒート (Dead Heat on a Merry-go-round), designed the cover for the English translation of A Wild Sheep Chase.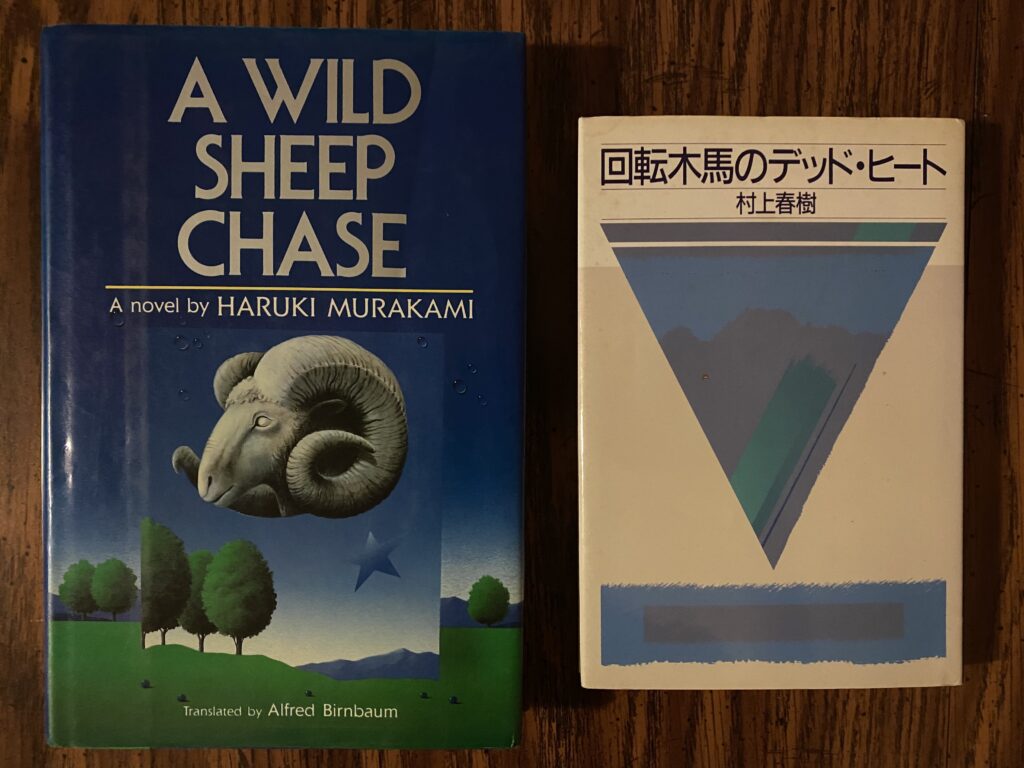 This is pretty wild to me because they're so totally different. The former is so abstract while Sheep is more surreal. I actually own a copy of both. A friend got me A Wild Sheep Chase years ago, and the Dead Heat first edition was one of the first purchases I made when I moved to Japan…I imagine it was significantly less expensive. You can see more of Okamoto's work here.
– A Wild Sheep Chase was a Book-of-the-Month Club pick. Jay Rubin mentions the $50,000 advertising budget in his book Haruki Murakami and the Music of Words (Karashima notes $46,000), but the book club was new information for me and seems like a pretty big deal.
– Murakami writes about an early trip to New York at the end of 遠い太鼓 (Distant Drums) apparently. Karashima includes a note about this, so now I'm looking forward to getting through the rest of that book.
– The details about how "The Windup Bird and Tuesday's Women" was edited for The New Yorker are fascinating (major revisions that border on censorship). Also very, very interesting is Karashima's suggestion that Murakami decided to expand it into a novel because it had been translated and was well received upon publication in 1986. Murakami expanded into a novel when he took up his position as writer-in-residence at Princeton in 1991.
– It becomes more and more apparent that Elmer Luke has earned his acknowledgment inside the cover of Hard-boiled Wonderland and the End of the World. He doesn't get top billing, but there is the line "The translator wishes to acknowledge the assistance of editor Elmer Luke." His name was familiar from Jay Rubin's book, but Karashima does an exceptional job of bringing him to life through his back story as well as quotes like this, where he explains why he edited Hard-boiled Wonderland the way he did:
"I think the larger concern for me was that there was (in my humble opinion) chaff that was cluttering the picture—stuff that was repetitious or tangential or less than critical to the narrative or worked against it—the chaff needed to be culled, so that what we had was germane or, if not, appealingly whimsical or amusing or deep. … There was also the awareness that Japanese editors did not, do not, edit much. For whatever reason. In translation that lack becomes clear. So—my hubris, perhaps—I felt I had to do what had not been done." (113)
Oh, if only someone had done that to his more recent novels. It's clear that The New Yorker is still editing Murakami somewhat heavily (all you have to do is compare the Japanese version of the piece about his father with the English), but his novels no longer get this treatment in translation.
– Several of the sexy parts from Hard-boiled Wonderland with the Girl in Pink are provided courtesy of literature professor Hosea Hirata.
– Birnbaum is quoted saying they "must have ended up cutting around a hundred pages" (112), but it's not nearly this much. It must have felt that way because he and Luke would work on the book five to six hours a day! Luke adds that when "the true Murakami believers" find out about the edits they "will be horrified. But that's okay too. I made the choice. Or we did."
I wouldn't say I was horrified (if you didn't know I was a Murakami true believer by now, surprise!). I did a five-blog post series on some of these cuts from Chapter 21 when the pair are running around underground (1, 2, 3, 4, 5). I think that some of the sections needed to go (especially the bicycle song she sings), but others could have been kept. There's a scene where they make out in the dark that's compelling, and one at the end of the chapter where Watashi reflects on life that are probably worth keeping. Hell, even the scene where he shows her his erection in Chapter 31 could probably stay. But the translation does stand on its own, so I'm not too torn up.
– There's no mention of the edits that Murakami made to the Complete Works edition of Hard-boiled Wonderland. I'm so curious to know more about how the changes came to be made, and WHEN they were made.
– Jay Rubin finished his book The Sun Gods in 1989. The book was published by Chin Music Press in 2015, and I don't think I realized he'd written it much earlier. I am halfway through this book. I've been reading off and on for a few years, which I don't mean as commentary—sadly, I have a lot of books in this state of limbo.
– Karashima has a fantastic callback to Murakami's fiction when he tells the story of Jay Rubin encountering Murakami. Rubin got a call from an editor at Vintage, asking him to read Hard-boiled Wonderland and evaluate its potential for translation. Rubin no longer remembers this person's name, so it's almost like he received a phone call from a stranger…much like a Murakami narrator.
– This is an incredible quote from Murakami about being edited for The New Yorker:
"What can I say—The New Yorker has a large number of readers and they also pay really well," he tells me, laughing. He says that if the editor of a Japanese magazine had made similar suggestions, "of course I would change things that I agree with, but in principle I would say no. Not just with The New Yorker, but in foreign markets in general, I think you have no choice but to go along with their rules. There are people who criticize me for this, saying, 'I bet you let them do what they want because it's The New Yorker.' Yes, that's exactly right! But like I said, I reverse the changes when the story is published in book form."
This is just an incredible, mind-blowing view on the role of editing in writing. It's almost like he doesn't see the point of it. I can imagine that he might be skeptical of it, having been edited so heavily earlier in his career only to receive a lighter touch once he made it big. It must feel like those initial edits were all made mistakenly. But as mentioned previously, The New Yorker is still editing him. Even his nonfiction.
– I'm amazed by how many faxes Murakami and Luke (and everyone else!) were sending to each other. I think that's something that my generation missed. My first memories of fax machines are the daily spam marketing advertisements we would receive at the first part time job I ever had. Email killed off the practicality of the fax (but not the security) pretty quickly. I imagine there was a period in the 80s and 90s after email started being used more widely when fax still made the most sense as a communication channel.
– There are several mentions of very early publications of Murakami translations, notably Philip Gabriel's translation of "Kangaroo Communique" published in ZZYZYVA and (new to me) "On Meeting My 100% Woman One Final April Morning" by Kevin Flanagan/Tamotsu Omi. I've always wonder how Gabriel worked out the translation rights to publish this one. It isn't mentioned here.
– Murakami says he doesn't like "The Last Lawn of the Afternoon." That story has such a mood. I haven't read it for a while but remember enjoying it.
– Karashima does a nice job of emphasizing how Murakami arranged translation of The Wind-Up Bird Chronicle before it was published in Japanese. This reduced the publication time between his translations to the three years from Dance Dance Dance (1994) to WUBC (1997).
– Fascinating: "Murakami also tells me that he is particularly keen on seeing new versions of the works originally translated by Birnbaum for the American market." (213)
– Even more fascinating! "The unabridged translation [of The Wind-Up Bird Chronicle] donated by Rubin to the Lilly Library [at Indiana University] will be made accessible in 2026." (227) The book doesn't seem to specify how this will happen, and Knopf seems hesitant but open to the idea, based on a few quotes in the book.
– The book takes the publication of The Wind-Up Bird Chronicle as its endpoint, so the criticism of the book gets quoted somewhat liberally, and I find myself impressed with Michiko Kakutani's thoughts at the time of publication: "'Wind-Up Bird often seems so messy that its refusal of closure feels less like an artistic choice than simple laziness, a reluctance on the part of the author to run his manuscript through the typewriter (or computer) one last time." Karashima follows this quote with other critics who seem to admit that WUBC is messy but say that it doesn't matter. I've made it clear that I think WUBC only looks worse as Murakami continues to put out long novels that are poorly edited.
I'm noticing from those links that I predicted a short Murakami book in 2021 or a long book in 2024/2025. He put out a collection of short stories this year, so maybe that tides us over for a 2022/2023 publication of a longer novel. Will be interesting to see, and to see if it sheds any light on the rest of his works.
– One of the quotes that convinced me to read this book was David Mitchell's quote: "[A Wild Sheep Chase's] characters were existentially untethered. They lived in bars, coffee shops and tiny rooms with no view to speak of. They worked, had odd conversations, drank beer, slept, and worked. Family rarely entered the picture. They made no plans for their futures. Not unlike English teachers in Japan, now that I think of it." (235)
– Philip Gabriel and Ted Goosen get short thrift! I imagine this is mostly due to a page/word limit, but I found myself super curious about their backgrounds. I think Mr. Karashima owes us a sequel, or at the very least a lengthy piece in The New Yorker or The Atlantic.
– HUGE REVEAL IN THE ACKNOWLEDGMENTS: Murakami has asked Jay Rubin to do a new translation of Hard-boiled Wonderland and the End of the World! This is really exciting. I can't wait to see how it ends up.