Hard to believe that 2020 is finally coming to an end…or is it?
I've had a couple of tweets do pretty well the past week, and I'm going to attribute most of the success to sheer luck. I happened to be transcribing a 悩み (nayami, problem/distress/sorrow) from Higashimura Akiko's podcast (same episode I mentioned in the newsletter this month, just an earlier call) the other day and came across the great compound 悠々自適 (yūyūjiteki), which felt incredibly appropriate to share: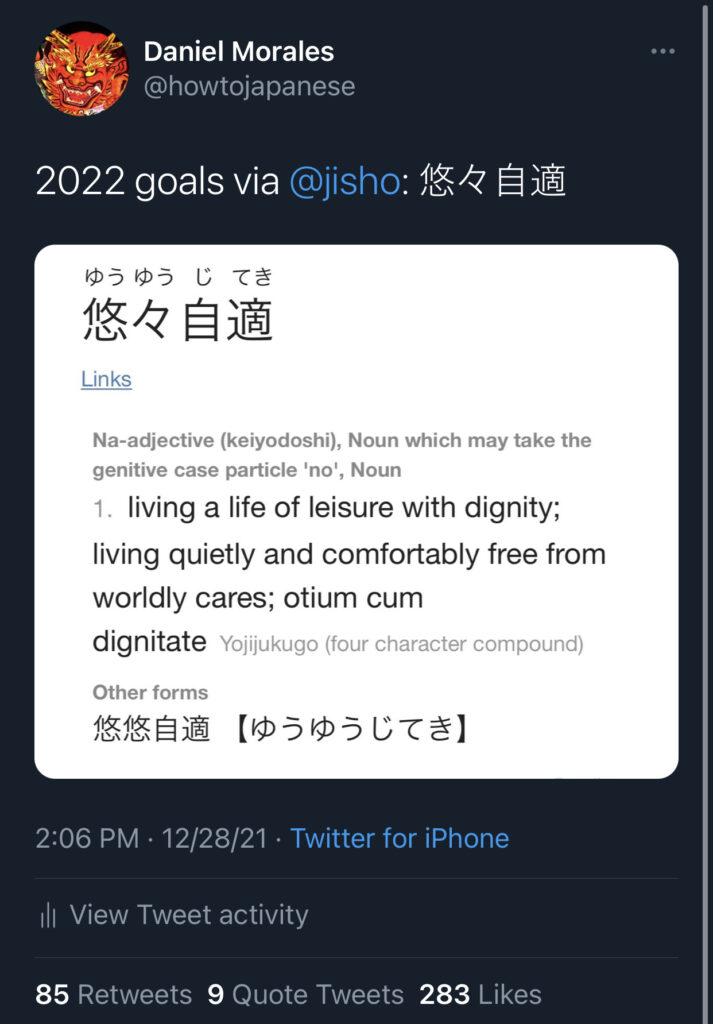 2022 goals via @jisho: 悠々自適 pic.twitter.com/LsCUJotpY7

— Daniel Morales (@howtojapanese) December 28, 2021
This is definitely my personal goal for 2022, although I do feel like it's a luxury to be able to completely tune out the outside world. Once I get through the program I'm in, I'm planning to make phone calls for the governor's races in Georgia and Florida, and I hope you contribute time or money as well.
As for Japanese language study, I do think it's incredibly helpful to transcribe native Japanese audio from time to time. I find myself doing this for my writing every now and then, usually from NHK or Higashimura-sensei's podcast, which provides good balance between 報道 (hōdō, broadcast) language and more natural language. It's obviously helpful to listen to these without transcribing to practice your listening skills at a native pace, but transcription forces you to get in there and confirm particles and verb forms in a way that enables you to then implement the patterns more accurately. It's not fun work, but if you can set a schedule to do this once a month or so, I promise that you'll find yourself improving.
I hope that you all find the time to take a breath at the end of the year. I was really looking forward to spending the New Year's holiday in Japan. There's really nothing like relaxing in Japan during that period. I will admit that I've enjoyed the 80F/24C days in New Orleans I've had the past 10 days, and I'm also looking forward to returning to my monastic existence in Chicago. I'm probably putting together a virtual hang for New Year's Eve, so if you're a friend of the blog, reach out and I'll share the link. Otherwise, 良いお年を!