The last week of Murakami Fest 2020! We get five weeks this year. Hooray!
Previous Murakami Fest Posts:
Year 1: Boobs, The Wind, Baseball, Lederhosen, Eels, Monkeys, and Doves
Year 2: Hotel Lobby Oysters, Condoms, Spinning Around and Around, 街・町, The Town and Its Uncertain Wall, A Short Piece on the Elephant that Crushes Heineken Cans
Year 3: "The Town and Its Uncertain Wall" – Words and Weirs, The Library, Old Dreams, Saying Goodbye, Lastly
Year 4: More Drawers, Phone Calls, Metaphors, Eight-year-olds, dude, Ushikawa, Last Line
Year 5: Jurassic Sapporo, Gerry Mulligan, All Growns Up, Dance, Mountain Climbing
Year 6: Sex With Fat Women, Coffee With the Colonel, The Librarian, Old Man, Watermelons
Year 7: Warmth, Rebirth, Wasteland, Hard-ons, Seventeen, Embrace
Year 8: Pigeon, Edits, Magazines, Awkwardness, Back Issues
Year 9: Water, Snæfellsnes, Cannonball, Distant Drumming
Year 10: Vermonters, Wandering and Belonging, Peter Cat, Sushi Counter, Murakami Fucks First
Year 11: Embers, Escape, Window Seats, The End of the World
Year 12: Distant Drums, Exhaustion, Kiss, Lack of Pretense, Rotemburo
Year 13: Murakami Preparedness, Pacing Norwegian Wood, Character Studies and Murakami's Financial Situation, Mental Retreat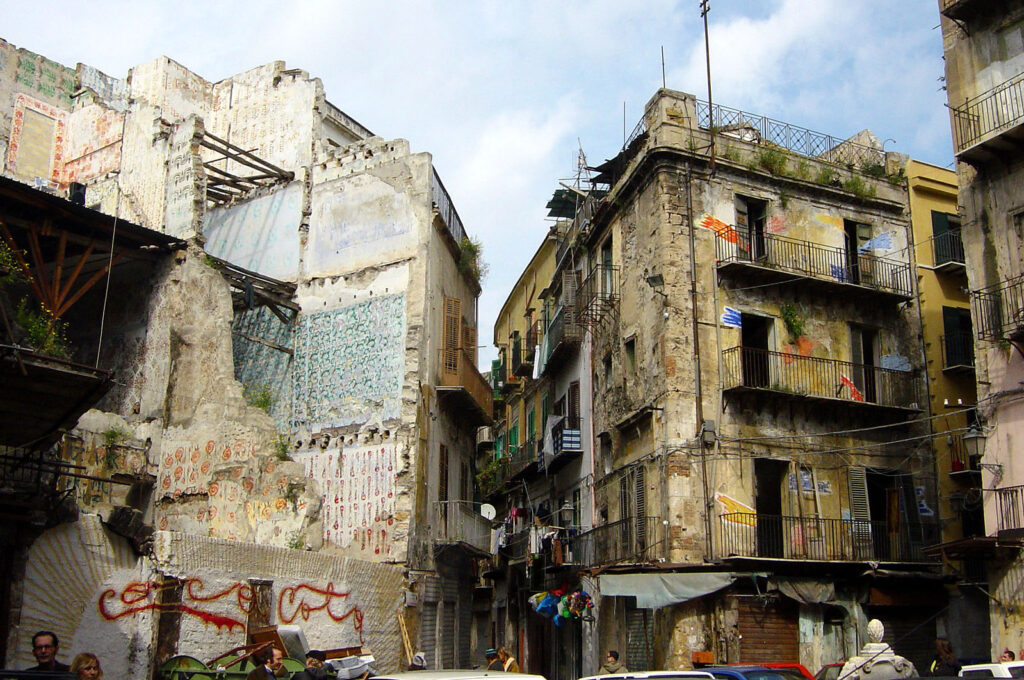 On New Year's Eve 1986, the Murakamis heads from Mykonos to Athens and then to Rome where he spends New Year's. People are eating lentils and drinking champagne to celebrate. After celebrating, they head to Sicily for a month, which left a definite impression on Murakami — he notes that if they hadn't already paid the rent and didn't have a work commitment (an essay for an in-flight magazine), they would have left early. The city is dirty and run down, violent with crime, and noisy.
Not a great writing atmosphere: He goes as far as calling it Hell (地獄). Murakami manages to write, but the stress of Palermo gives him nightmares, which feels exceptional because he's said he doesn't dream very much.
The opera and food in town are the highlights for his time there — he sees three operas and eats heaping plates full of ikasumi linguine.
There's a nice passage about writing at the beginning of the section, right after he describes how miserable Palermo is:
I lived in that city for a month. And the whole time I was writing Norwegian Wood. I wrote about a sixth of the way through that novel here. Unlike Mykonos, I wasn't able to go out for walks even when the sun was out, which I guess was tough. If I suddenly wanted a quick change scenery, I couldn't just take one. So we twice left Palermo to go on short trips. We went once to Taormina and once to Malta. Then we returned to Palermo where I confined myself to the room and worked.

It was hard to keep writing the novel every day. There were times it even felt like I was grinding down my bones or consuming my own flesh. (You might say that it isn't that massive a novel. But to the writer, that was what it felt like.) However, it was more painful not to write. Writing is hard. But writing itself wants to be written. The most important thing when this happens is focus. The focus to throw yourself into that world. And the strength to sustain that focus for as long as possible. If you do this, you'll find that at some point you conquer the pain. And you have to believe in yourself. Believe that you have the strength within yourself to complete it.

そんな街に一ヶ月住んだ。そしてそのあいだずっと『ノルウェイの森』を書いていた。その小説のだいたい六合めくらいまではここで書いた。ミコノスとは違って、日が暮れてもちょっと外に散歩に出るということができなくて、それが辛いといえば辛かった。さて気分転換をと思っても、それができない。そこで二回ばかりパレルモを離れて小旅行に出た。一度はタオルミナに、もう一度はマルタ島に行った。そしてパレルモに帰ってくると、また部屋にこもって仕事をした。

毎日小説を書き続けるのは辛かった。時々自分の骨を削り、筋肉を食いつぶしているような気さえした。(それほど大層な小説ではないじゃないかとおっしゃるかもしれない。でも書く方にしてみればそれが実感なのだ)。それでも書かないでいるのはもっと辛かった。文章を書くことは難しい。でも、文章の方は書かれることを求めているのだ。そういうときにいちばん大事なものは集中力である。その世界に自分を放り込むための集中力である。そしてその集中力をできるだけ長く持続させる力である。そうすれば、ある時点でその辛さはふっと克服できる。それから自分を信じること。自分にはこれをきちんと完成させる力があるんだと信じること。 (183)
This feels like good advice…to be taken with a grain of salt. Murakami's writing advice often feels like it will result in "the scroll." I think this is the recipe for a lot of bad first drafts, which are necessary to eventually produce good writing, but given what we know about Murakami's later output, I'm not sure how much editing is being done. Murakami is a sixth done with his novel in January/February 1987, and it goes to press in September. Norwegian Wood itself was a revision project, working based on a short story, so maybe that's why it works better than some of his other projects. He's not just sitting down to knock out Hard-boiled Wonderland and the End of the World Vol. 3.
That's all for Murakami Fest this year! I'll be back next year with more chapters. I'm curious to see what other bits about Norwegian Wood make it into these little memoirs.