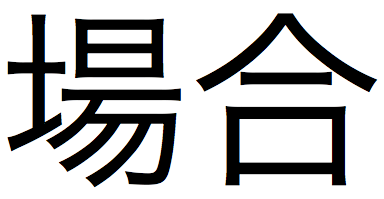 I'm on the Japan Times Bilingual page this week: "In Japanese, mastery of the space-time continuum is just a few words away."
The intro is inspired by my first ever trip to Japan—an internship with a propeller company. I was taken along on a visit to Misawa Homes, one of the big prefab housing companies in Japan. (Of course the propeller company did business with a modular homes company.) I also got to see model homes in a yet-to-be-populated subdivision. It's impressive stuff.
The article is a bit heavy on the timing words, so I feel like I gave 場合 short shrift. It is the ultimate hypothetical word, one that can sit in for conditional verbs ending with たら or ば and one that doesn't require you to perform any mental gymnastics with the verbs. Not that it's all that difficult to construct the たら or ば forms, but 場合 only really needs the past or present tense.
The easiest way to think of it in English is "In the case of X," where 場合 means "case." This also works with constructions (suggested by this site) such as 外国人の場合. (The only proper response to which is "break glass," I assume?)
I feel like I've tweeted out this Chiebukuro link before, but the pronunciation of 場合 is one of those few Japanese words that can vary a little. My first sensei pronounced it ばわい, which always stuck with me. I'll use it every now and then.