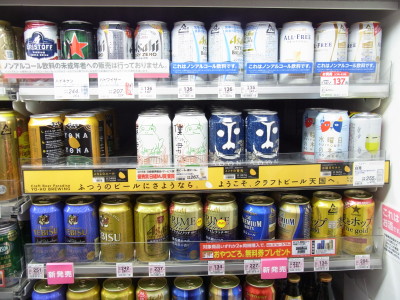 Belated notice, but I was in the Japan Times On Sunday this past week with an article about craft beer in Japan: "Beer Essentials: The craft beer boom in Japan shows no signs of running dry."
This was a fun piece to research and write. I highly recommend checking out Jeffrey Alexander's book "Brewed in Japan." It's an incredibly interesting read about the history of beer in Japan. I don't recommend buying the Google Play version of the book, however. I was forced to read it in a very small font on my iPhone. I think I'll probably get a physical copy of the book and give it another read at some point. There are so many interesting details, and I'd like to be able to enjoy it more leisurely without ruining my vision. Here's a great passage from the book about Japan's early encounters with American beer:
When the shogunate then agreed to sign the Convention of Kanagawa [in March 1854]…it held a celebratory reception to mark the occasion. At the event, the US delegation presented gifts to the Japanese officials of innovative American products, including a working telegraph, a one-quarter-scale steam locomotive, and three casks of beer. The beer was described by Japanese observers as being an earthen colour, with a large volume of bubbles on top, but review of its taste were mixed. Some called it "magic water," while others labelled it "bitter horse-piss wine."
Ha. Suffice it to say that they've warmed up to beer in the interval.
This was also a great excuse to catch up with a lot of old friends in Tokyo, which I was able to do thanks to the Japanese government. They flew me over to Japan the first week of March for a JET conference. I had a few days on the front half of my trip to myself, and I used it going around to bars I frequented when I lived in Tokyo. I got really lucky with the timing. The JT asked me to write the article just a couple weeks after I was invited to the conference. Special thanks to Aoki-san at Popeye in Ryogoku and Sato-san at Beer Brassiere Boulevard (formerly of Dry Dock).
One interesting phrase I heard from several sources in the beer industry was 取れるところから取る ("take [taxes] from where [taxes] can be taken"). A Google search shows that it gets used in reference to many different topics: 10,100 search results are pared down to 2,840 when the term ビール is added to the search. Still, that's about 28%. A Japanese book I read titled ビールの教科書 suggests that it's a combination of inertia and the fact that it's a hard sell for the government to give money back to companies that make booze.
There's been some small movement on an equalization (一本化) of the beer tax, which would set the tax for any type of alcoholic barley-based beverage at 55 yen/can, but it's unlikely to happen any time soon, especially if the Japanese economy doesn't pick up. It would be very interesting to see how that change would affect the beer market, since it would effectively eliminate any competitive advantage for happōshu. It would affect different companies in different ways since their portfolios are so varied. Asahi would likely benefit, since Super Dry is a true beer and already dominates the market. Suntory, on the other hand, sells a ton of Kinmugi, and it would be forced to raise prices.
Sadly the beer tax will likely be a semi-permanent impediment to the development of craft beer in Japan. As long as folks keep drinking, it will be an easy target for politicians.