I went back to Katsuretsu-an this weekend, this time at the branch in The Diamond, one of the 50 shopping malls attached to Yokohama Station. The first time I went, I ordered the ヒレ, which is named after the store. This time I went with a ロース cut, and I think it was the best ロース I've ever had. The ヒレ was the thinnest of the three katsu I tried back in January. The ロース isn't much thicker, especially compared with cuts from other stores, but it was the cleanest ロース cut I've ever seen, and I think this is evident even from the camera in my phone: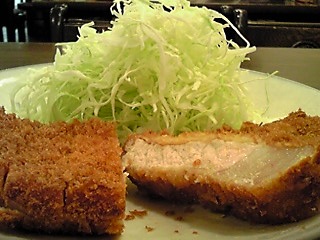 Generally with ロース cuts there are bits of fat all through the pork, some of them kind of tough and rubbery. This cut, however, was perfect; all of the fat was on one side, and the rest of the meat was lean and moist. The batter had been fried perfectly, nice and crisp but not too oily. The fat had been almost liquefied within the batter, so it basically melted in my mouth. I hate that sensation of chewing rubbery fat, so I generally order ヒレ, but at Katsuretsu-an, ロース is definitely the way to go.
Less than 100 pages to go in 1Q84!