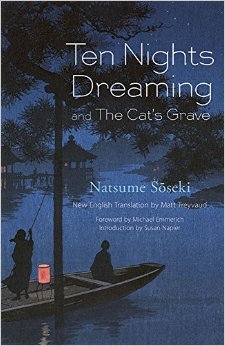 Matt Treyvaud of No-Sword has a new translation of Natsume Soseki's 夢十夜, titled Ten Nights Dreaming in his version. It is excellent. To borrow a phrase of praise from Pynchon, it comes on like the Hallelujah Chorus done by a hundred shakuhachi players, all suitably off pitch.
I believe I read the First Night in college. It's a favorite for language teachers because of the play on words with the Japanese word for lily, which is 百合 (ゆり). I won't spoil why this is a play on words in case you haven't yet read it, although Matt explains it in his translation, so check out the original here on Aozora before you read his version.
I recently reread the First Night in Japanese for a Japanese reading group that I've been running (and meaning to blog about…) through the JET Alumni Association here in Chicago, but I'm not sure I'd previously read any of the other nights.
Highlights of the stories for me include: The entirety of the Third Night, which feels like a ghost story. The creepy image of bearded old man stepping into the river at the end of the Fourth Night. The slow motion plunge in the Seventh Night, and how the latter half of the collection creates a sense of the oddity of life in modern Japan, from Soseki's perspective. The Tenth Night in particular feels incredibly fresh and lucid in Matt's language.
Which was always half the problem with reading older Japanese authors, in my opinion. As an undergraduate, the stale language of older translations made reading them a bit like driving a car through a blizzard: It's hard to enjoy the pleasure of driving when you're straining just to see the road.
After the stories, Matt even includes "The Cat's Grave," a short piece of nonfiction, which is very nicely rendered and a bit sad. Here lies the cat, indeed.
The excellence of this translation shouldn't come as a surprise to longtime followers of No-Sword. Matt did great work with his version of Botchan, which is also notable as the only Soseki translation (that I know of) which includes a reference to Spinal Tap. Here is a short section from Chapter 3 where the titular Botchan is getting settled in the classroom:
最初のうちは、生徒も烟けむに捲まかれてぼんやりしていたから、それ見ろとますます得意になって、べらんめい調を用いてたら、一番前の列の真中まんなかに居た、一番強そうな奴が、いきなり起立して先生と云う。そら来たと思いながら、何だと聞いたら、「あまり早くて分からんけれ、もちっと、ゆるゆる遣やって、おくれんかな、もし」と云った。おくれんかな、もしは生温なまぬるい言葉だ。
Behold as Matt turns up the translation to the proverbial eleven:
At first, I had the students confused and staring blankly. Ha! Score one for Tokyo. I was just getting into my stride, turning the alpha male knob up to eleven, when a sutdent sitting front and centre—the strongest-looking kid there—stood up and said "Sensei!"
"What?" I asked, thinking, Shit, here it comes.

"We cain't unnerstan' yuh none 'cause yuh talkin' too fast. Cain't yuh maybe slow it down none, like?"

Can't yuh maybe slow it down none, like? That was supposed to be a sentence?
It's worth adding both to your library and keeping an eye on Matt's future translation projects.