Wow, I can't believe I got through that whole damn bestselling enka exercise. I've been prepping it for over a month, but I actually started drafting the original idea three years ago (made it through songs 1-9) after coming across the list of bestselling enka. I had dreams of writing something more substantial about karaoke or enka, but after finding Christine Yano's book "Tears of Longing: Nostalgia and the Nation in Japanese Popular Song," I realized it has already been done.
Here are some of my thoughts about enka in bullet point style:
– Yano's book is great. I haven't finished it, but I've read the introduction, the chapter on the history of enka, her analysis of the frequency of words, and parts on the gender roles in enka. My only beefs so far are that the book uses romaji instead of kanji (which is how academia does it, I get it, but always feels disrespectful of the original language) and that her look at frequency of words does not include verbs. The nouns she examines are useful on their own and provide some interesting analysis. Including verbs would adjust the rankings quite a bit, and I'd be curious to see how so. For a more detailed look at the book, be sure to check out Tokyo Damage Report's detailed review.
– Here are some verbs I think would get included in the list: しみる (shimiru, penetrate, permeate), つのる (tsunoru, grow stronger), 許す (yurusu, permit, allow), 逢う (au, meet), 泣く (naku, cry), 飲む (nomu, drink), 降る (furu, fall), 枯れる (kareru, wither), すがる (sugaru, cling to, rely on), 滲む (nijimu, blur), 生きる (ikiru, live), 死ぬ (shinu, die), 帰る (kaeru, go home, return), 誓う (chikau, swear, pledge), 抱く (daku, embrace), 酔う (you, get drunk), 耐える (taeru, endure), 行く (iku, go), 捨てる (suteru, throw away, dump).
– Enka, as Yano notes, "has been reconstructed to invoke 'tradition.'" This is a pretty wide tangent for the second bullet point, but here it goes: I think what enka has done for Japan is very comparable to what country music has done in the United States. Country music has been codified and formulated much in the same way that enka has, and I think it even has it's own vocal stylings much in the same way that enka has kobushi.
In terms of nationalism, though, I'm thinking in particular of Lee Greenwood's "God Bless the U.S.A." which has made me throw up in my mouth a little since I first heard it at summer camp in 1994, in particular the line "I'm proud to be an American where at least I know I'm free." Where to start with this line. First, "American" isn't a place, so modifying it with "where" is just wrong. Second, the "at least" has always bothered me. At least you're free? It's always felt to me that this line sweeps anything knocked down in pursuit of freedom under the carpet. Sure, there's a bunch of terrible shit, but at least we're free.
– One non-shitty country western thing before we return to enka: A classic example of country western kobushi (aka "twang"): Wayne Hancock's "Thunderstorms and Neon Signs."
I think this twang was probably first introduced (or at least perfected) by Hank Williams. It's also interesting to note that this song came out in 1995! It sounds like it could be much older, and the sepia-toned album cover supports the idea that some country, like enka, is a modern music designed to seem much older and more traditional: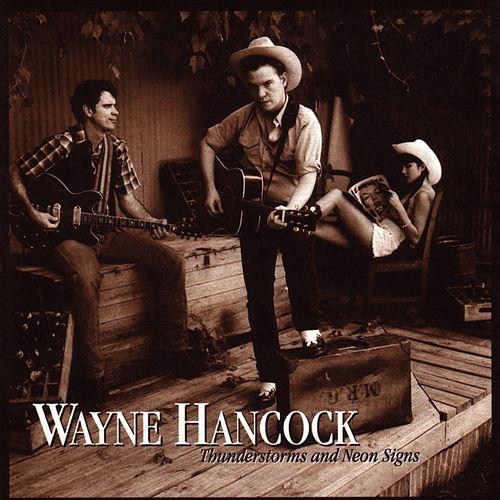 – Ok. Back to normal stuff. All enka songs begin with a 10-30 second instrumental section which allows the emcee to give a quick intro of the performer and describe the effect the song has had on the populace. This also gives singers a moment to greet the audience and fellow performers and to gracefully position themselves in preparation to sing.
– It's interesting that the top five songs are from 1978 and earlier and that the top two are from the 1972-1973 period when enka as a genre was first getting defined. I think this is why you see Miya Shiro and Nagata Atsushi of the Tonosama Kings both make use of an almost painfully undulating kobushi: this is when the elements of the genre were put into place, and these two may have put kobushi right up at the top.
– The best way to learn enka: Buy a couple "Best of" CDs for a handful of artists and then force yourself to listen to listen to them over and over. Keep them in your car or load them on your smart phone. You'll be surprised how quickly you gather the subtleties of the songs.
– Check out this very detailed Japanese write-up about how to get better at karaoke. It includes advice to get over any コンプレックス (complexes) you might have, humming along with songs to learn them, and practicing higher key songs so that you can train your vocal chords.
– I was surprised by how much "I'd die for you!" there was in enka, and I was tempted to call it unique to enka, but it most definitely isn't. The country western song "He Stopped Loving Her Today," for example:
This song seems to mirror the story behind Yamamoto Jōji's song みちのくひとり旅 (Michinoku hitori tabi, Solo journey to Michinoku). A man longs for a dead lover and can only give up his love/reunite with the love in death.
I was also reminded of the song/movie "La Vida No Vale Nada," a ranchero. I guess this is true in pop music as well (vague memories of some Ryan Adams song with the lyric "I'd die for you!").
– I think that's just about all I've got. Do you have any favorite enka songs? Share them in the comments here or on social media. I've got a list I've been keeping from karaoke sessions with coworkers. I'm not sure what if anything I'll do with it, but it's always nice to learn new songs you didn't know about.