Wow. Nine years. That's kind of unbelievable. I started studying Japanese 15 years ago this summer, so I've been doing this silly exercise (writing this only-slightly-less-silly blog) for a good majority of my Japanese studying experience…which is now sneaking up on half my life.
Without further ado…
Welcome to the Ninth Annual How to Japanese Murakami Fest!
With the goal of stirring up even more interest in Murakami between now and October, when the Nobel Prizes are announced, I will post a small piece of Murakami translation/analysis/revelation once a week from now until the announcement. You can see past entries in the series here:
Year One: Boobs, The Wind, Baseball, Lederhosen, Eels, Monkeys, and Doves
Year Two: Hotel Lobby Oysters, Condoms, Spinning Around and Around, 街・町, The Town and Its Uncertain Wall, A Short Piece on the Elephant that Crushes Heineken Cans
Year Three: "The Town and Its Uncertain Wall" – Words and Weirs, The Library, Old Dreams, Saying Goodbye, Lastly
Year Four: More Drawers, Phone Calls, Metaphors, Eight-year-olds, dude, Ushikawa, Last Line
Year Five: Jurassic Sapporo, Gerry Mulligan, All Growns Up, Dance, Mountain Climbing
Year Six: Sex With Fat Women, Coffee With the Colonel, The Librarian, Old Man, Watermelons
Year Seven: Warmth, Rebirth, Wasteland, Hard-ons, Seventeen, Embrace
Year Eight: Pigeon, Edits, Magazines, Awkwardness, Back Issues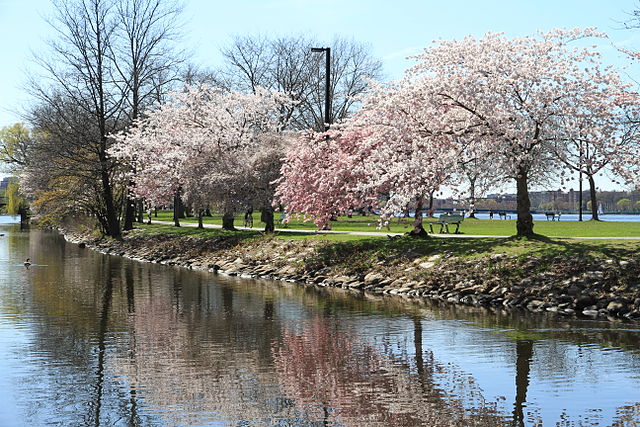 This year I've done very little preparation. Tonight after I finished up some other work, I brainstormed a couple ideas, tossed most of them in the garbage, and decided to translate passages from the latest Murakami book that I purchased on my trip last Christmas.
The book is 『ラオスにいったい何があるというんですか?』(My contextless translation: What Exactly Do They Say is in Laos?), and it's a collection of travel essays from various points in his career, many from the magazine AGORA.
The first essay titled 「チャールズ河畔の小径」("The Path on the Charles") is from 1995, when Murakami had run the Boston Marathon four times. He's run it twice more since then, and I saw him run it one of those times in 2003.
The piece is an ode to the Boston Marathon and also to the running path on the Charles. Murakami calls the marathon 大げさに言えば精神的なふるさとのような大会 ("to put it in exaggerated terms, a race that is something like my emotional home").
And here's a passage I thought was nice, one that made me think of my twice daily bus rides that take me along Lake Michigan:
僕は思うのだけれど、たくさんの水を日常的に目にするというのは、人間にとってあるいは大事な意味を持つ行為なのではないだろうか。まあ「人間にとって」というのはいささかオーヴァーかもしれないが、でも少なくとも僕にとってはかなり大事なことであるような気がする。僕はしばらくのあいだ水を見ないでいると、自分が何かをちょっとずつ失い続けているような気持ちになってくる。それは音楽の大好きな人が、何かの事情で長いあいだ音楽から遠ざけられているときに感じる気持ちと、多少似ているかもしれない。あるいはそれには、僕が海岸のすぐ近くで生まれて育ったということもいくらか関係しているのかもしれない。 (14)

I think that the act of seeing a large amount of water every day may be, for humans, very meaningful. Well, it might be a bit of an exaggeration to say "for humans," but I feel like it's an incredibly meaningful thing for me at least. If I go for a while without seeing water, I start to feel as though I'm continuously losing something little by little. It might resemble to a certain extent how someone who loves music feels when, for some reason, they are separated from music. Or it might have something to do with me having been born and raised closed to the coast.
The photo at the top is of the sakura on the Charles, which Murakami mentions blossom in May, much later than the cherries in Tokyo and southern Japan.
I'll start reading through a few more of these essays and hopefully turn up some more interesting passages for the coming weeks. As always, よろしくプリーズ.
(Photo attribution here.)